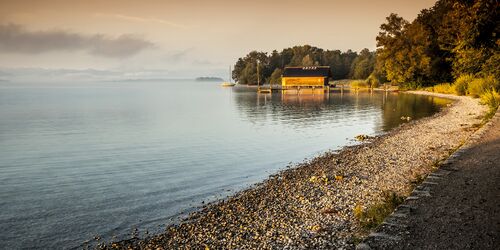 A rucksack full of riches: keepsakes from Starnberg and Bernried
Anna, Tim and Max have known each other since kindergarten. Now they regularly tour their home state of Bavaria together by train. When their trip is done, they always have souvenirs to remind them of the place they've visited, the journey and the things they did that day. Their latest destination: Lake Starnberg.
Whenever Anna, Tim and Max go on an excursion in Bavaria, they always come home with a rucksack full of mementos, trinkets and little treasures. Today, they took a train to Lake Starnberg and were so eager to inspect their souvenirs that they opened their rucksacks on the train home.
1. Chocolates and sweets from confectioner Elly Seidl
As soon as they arrived in Starnberg, Max was at the shop window of the Elly Seidl confectionery. For a good reason – his mother had asked him to buy her some chocolates from the famous small shop, located right on the platform. He took one look at the array of mouthwatering morsels and knew his mother wasn't the only person who'd enjoy some sweet treats. He picked up a small box with a mix of chocolate truffles, nougat and pralines for himself and popped it into his rucksack. He has to make it all the way back to Nuremberg, however: here's hoping he doesn't eat them all on the train!
2. A Polaroid on the jetty
Munich's aristocracy and industrial magnates started coming to Lake Starnberg 200 years ago, when the lake was still called Würmsee after the river running through it. That was long before the summer homes, villas, palaces and charming taverns appeared on the lakeside promenades of Starnberg, Bernried and other local towns. Each of them has its own specific character, but they are all popular with holidaymakers because of their setting amid gentle hills and a panoramic view of the Alps. In Starnberg, the three friends made a brief stop at H'ugo's Beach Club. After enjoying some excellent Italian food, an espresso and a small prosecco, they went to the jetty to take photos that have more the air of a long holiday than a daytrip in Bavaria. Selfies are nothing special in this day and age, but Anna had packed her old Polaroid camera, which she found in her parents' attic. She used it to take one single but special photo instead of an entire series. On the train home, they pass it around with a feeling of pride and are reminded of the little hikes they used to make at kindergarten.
3. A ticket from Bavaria's State Lakes Shipping line
A trip to Lake Starnberg isn't complete without a journey on one of the large boats that criss-cross the lake during the summer months, ferrying tourists between the many beauty spots on its shores. The friends' boat took them to Possenhofen, where Austrian empress Sisi spent her childhood, past the plain wooden cross in the water that marks the place where Bavaria's King Ludwig II died, and close to Roseninsel, an island where the two would often meet in secret to escape the strictures of their respective courts. That evening, Tim finds the ticket in his pocket during the train trip. He flattens it out carefully: what looks like an unremarkable slip of paper is an integral part of the day's memories, so he will store it in a safe place when he gets home. This is typical Tim – even at kindergarten, he kept a photo album and autograph book for friends to write in.
4. DIY souvenirs from Buchheim Museum of Phantasy
Bernried is located on the western shore of the lake, just one train stop from Starnberg. With its well-preserved old centre, the picturesque little town was once selected as Germany's most beautiful village. However, there's more to Bernried than "ye olde" prettiness: it is also the home of a modern art centre, the Buchheim Museum of Phantasy. Visitors are greeted by an unparalleled range of works: Expressionist paintings, Modernist masterpieces and an eye-opening range of art objects from around the world. The Museum of Phantasy doesn't just concentrate on art, but its collection also encompasses ethnological and cultural artefacts. The building's architecture is exceptional too: its long structure is partially embedded in the sloping hillside and seems to merge effortlessly with its natural surroundings. For the three friends, the narrow balcony was a real highlight. Jutting far out over the surface of the lake, it offers a unique view of the surroundings. They were also very impressed by the museum's workshops for the public, calling them "laboratories for the imagination". With some expert assistance, the three were able to try their hand at activities from oils and crafts to pottery and watercolours. Now, on the train home, they unpack their unique souvenirs so they can admire them one more time.
Share article

Email Copy link
Your bookmarks