India? Bavaria! You don't have to travel to the other side of the globe if you want to go on a yoga break. There's also plenty on offer in yoga hotels in Bavaria for beginners that want a good introduction and for those who are more advanced and want to further expand their yoga knowledge.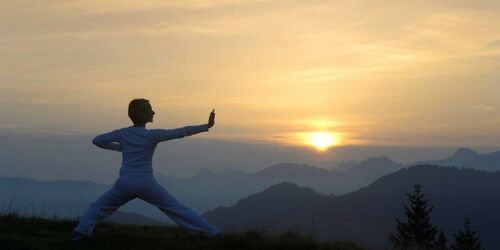 Yoga for everyone at Hotel HUBERTUS in the Allgäu mountains
Hotel HUBERTUS offers yoga classes and multi-day yoga retreats throughout the year.
Discover destination
Whether it's individual yoga lessons or multi-day yoga retreats – experienced teachers such as Sammi Beg are available across the whole year to teach various styles in the "Hubertus" hotel in Balderschwang in Allgäu. They also lead courses on various topics, such as pregnancy yoga or yoga for expanding your awareness. In fact, this four-star hotel has an active focus on fitness. The daily fitness programme includes classes such as aqua fit, tai chi and abs training. Your arrival is also well organised – a shuttle service takes you to the hotel from the station in Fischen in Allgäu.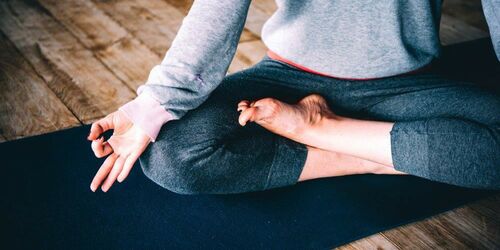 "Hotel Bayernwinkel - Yoga & Ayurveda" in Bad Wörishofen
Here, your healthy get-away doesn't end after class.
Discover destination
The "Yoga & Ayurveda Hotel Bayernwinkel" specialises in yoga and has a comprehensive range of services. The hotel in Allgäu also offers weekend courses for those wanting to unwind within the shortest possible amount of time. Those with more time have the option to book a yoga package for four, five or seven days. Therapeutic fasting, Kneipp water treatments, massages and vegetarian meals at "Green's", the hotel-restaurant, round off the itinerary.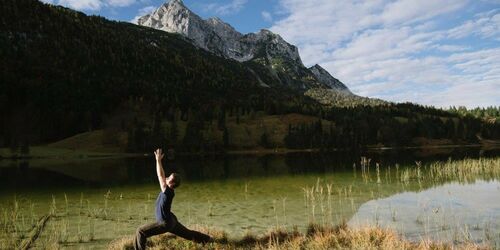 A deluxe retreat: "Schloss Elmau" in Upper Bavaria
At "Schloss Elmau" in Upper Bavaria, you can try out different styles of yoga, taught by renowned yoga teachers.
Discover destination
The renowned yoga teachers (including Patrick Broome and Patricia Thielemann) that teach at "Schloss Elmau" castle in Upper Bavaria come from all over the world – just like the students. The range of services on offer is just as varied. The "Yoga Summit" is a regular occurrence, where you can also attend yoga-themed presentations, concerts and discussions. The great thing about the Elmau is that children are always welcome and are looked after in the kids' club. That's not the case in every retreat. Another special thing about it is that Schloss Elmau is the only one of the eleven Jivamukti yoga centres around the world that is not located in a large city, but rather right in the heart of unspoilt nature. You can reach Klais in around 1.5 hours from Munich main station. From there, you can have the yoga hotel's shuttle service pick you up.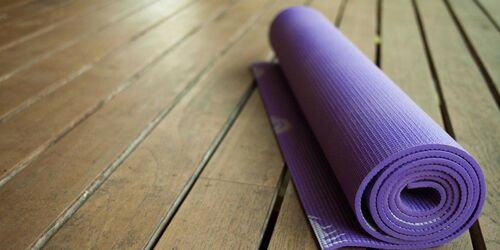 "Bayurvedic" cuisine in Garmisch-Partenkirchen
Go on a yoga retreat with "bayurvedic" cuisine at Hotel Staudacherhof in Garmisch-Partenkirchen.
Discover destination
This yoga hotel in Bavaria impresses with plenty of charm. The "Staudacherhof" hotel in Garmisch-Partenkirchen provides a sophisticated full package – yoga retreats and "bayurvedic cuisine". Ayurveda expert and chef Andreas Hollard combines both regional and Ayurvedic specialities here. The result is healthy and delicious gastronomic creations, which won't weigh you down when you're in asanas, such as "downward dog" or "cobra". The yoga hotel also offers metabolism treatments, massages and exercise courses like Qigong and aqua fitness.
"Das Kranzbach" hotel is well known as a wellness and spa hotel and impresses with the comprehensive range of yoga courses it provides. In addition to individual lessons, the hotel in Garmisch-Patenkirschen also offers multi-day yoga workshops, yoga hiking weeks, pilates and meditation courses, personal training, detox and Ayurveda treatments. Unfamiliar schools of yoga such as aerial yoga are being introduced more and more. In this style of yoga, you hang or sit in a diamond-shaped lycra sheet that dangles from the ceiling suspended on a thick hook. Depending on the weather conditions and type of yoga, classes take place in different areas, such as on the covered yoga terrace, on the roof of the pool house or even just on the lawn.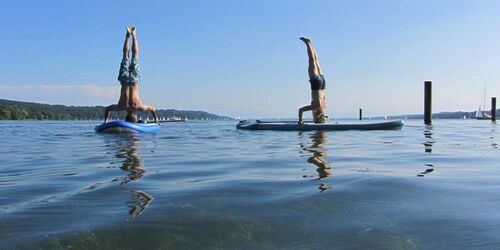 Stand-up yoga on Lake Starnberg or on the river Pegnitz
On a sunny day, why not have a go at a more wobbly style of yoga and swap your yoga mat for a stand-up paddle board. Paddle board clubs at both Lake Starnberg (pictured) and on the river Pegnitz offer this activity.
Discover destination
This wobbly form of yoga is perfect for hot days and really gets you fit – exercises on a board don't just strengthen your core, but will probably ensure that you are reminded of your outing for days afterwards with a gentle muscle ache. This activity is offered at both Starnberger See lake or on the Pegnitz river. What's more, if your sense of balance happens to be a bit off that day, at least you'll have a soft landing.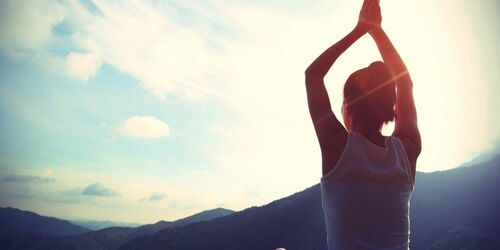 The Alps at a glance: Yoga Vidya Allgäu
The yoga retreat house "Yoga Vidya Ashram Allgäu" is situated at an altitude of 960 metres and welcomes yoga enthusiasts of all levels – from beginners to yoga teachers.
Discover destination
In the "Yoga Vidya Allgäu" ashram retreat house in Maria Rain, yoga is top priority. It impresses with experienced yoga teachers that practise styles of yoga including Hatha, Yin and Kundalini. The comprehensive range of courses offered spans pregnancy yoga, yoga for beginners and yoga teacher training to hormone yoga and packages that include hikes or cross-country skiing. The centre's location is ideal because the Allgäu Alps, hiking paths and numerous lakes for bathing are close by. One special feature of the retreat house is that there is also the option to sleep in a dormitory.
Regensburg, the small metropolis on the Danube, has a lot to offer: From Regensburg Cathedral to... Drink a glass of wine on the Old Main Bridge, admire your reflection in the palace's imperial hall... It's Christmas time in the Bavarian city centers! Travel with friends and family in a relaxed atmosphere on DB Regio Bayern trains to the most... The largest stalactite in Germany. You certainly won't want for things to see in the Maximilian... Although the Regensburg snuff factory has not produced any snuff since 1998, it still smells... The castle museum's large collection of paintings shows the lasting impression that Murnau and its... Travelling with children can really test your nerves sometimes. With our tips, your trip will be fun and stress free for all those involved. From bathing in a thermal spring to chilling out in the sauna, Bavaria has over 40 thermal baths where you can relax. When travelling with the whole family you need to be more generous when it comes to estimating times, which is why it's better to arrive at the... Want to fill your lungs with clean country air? These five Bavarian farmyards can easily be reached by rail and provide wildly good fun for the whole...
Share article

Email Copy link
Your bookmarks