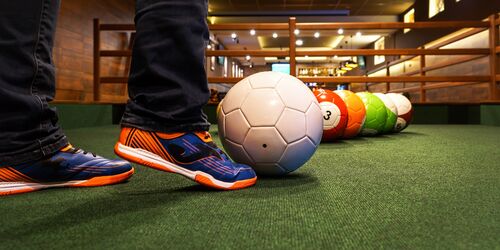 Where can you go when it's raining or snowing outside? If you like being active, why not have some fun at indoor Sport Fürth leisure centre. You can play a range of popular activities including crazy golf, badminton, grass hockey, football and beach volleyball. Combined with the heated sand on the playing pitches, your holiday illusion becomes almost perfect. You can also try out sports that, in this area, you'll only find in a leisure centre. How about football billiards in Fürth, for instance? In this game you hit the balls with your foot rather than with a cue. Football crazy golf works on the same principle. You work your way around 13 holes, using the largest golf ball you've ever seen and the smallest football goal in the world. Or how about a round of bubble soccer? This is a game in which you and your team wear huge transparent balls, one and a half metres wide, and attempt to score goals. The leisure centre is around a 20-minute walk from Fürth station.
For further information please click here.
Arrival
indoor Sport Fürth
Leyher Straße 80
90763 Fürth
Next station
Fürth (Bayern) Hbf (main station)
Our tip: Please make sure to check your train connection and the expected capacity before you start your journey.
More destinations
Do you want a riddle? As tricky, creepy and creative as possible? Then this could be a good fit:... Why not try out something new, like football billiards and be a human cue, or play crazy golf in... Go on a yoga retreat with "bayurvedic" cuisine at Hotel Staudacherhof in Garmisch-Partenkirchen. Fancy dangling off a wall? With an area of 2,000 square metres, E4 in Nuremberg is one of the... Faster, quieter and absolutely no exhaust fumes: Once you've had a taste of driving an electric... Ever wished that you could beam yourself into a video game? Well then, get yourself down to the... Bamberg is famous for its horticulture. Dive into the life and work of gardeners and wine makers... Two thirds of the 2011 film "The Three Musketeers" was filmed in Bavaria. One of the biggest and... At the "Gruseldinner" (spooky dinner) at Haus Heuport in Regensburg, you may struggle to... Kempten is the setting of the popular German novels and TV series "Hauptkommissar Kluftinger", in...
Share article

Email Copy link
Your bookmarks