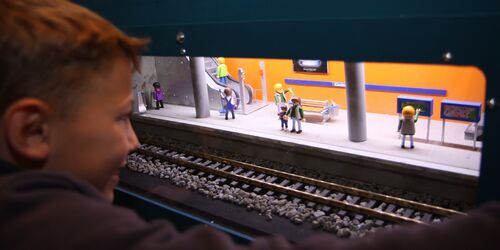 Ever since it opened at Munich's main station in 1995, the children's museum has put on countless exhibitions that demonstrate how the world works and all the things happening around us. If it had a motto, it would be this: use all of your senses to learn. The subjects tackled at the museum cover everything from the natural world to technology, sports to arts. Whatever the topic, the museum team puts together a great, kid-friendly show and makes sure that it's all as interactive as possible. When they come to the museum, kids can play, do their own experiments and spend hours crafting. For example, the exhibition about rubbish taught them how to recycle cloth and how old fabric can be woven into new textiles. The museum firmly believes that when children get to touch things for themselves, get to learn for themselves and get to have fun, then they understand a particular issue better. Other questions the young scientists have been exploring at the museum (playfully, of course) are "Where does the air we breathe come from?" and "How does light get reflected?"
The current exhibition is about bubbles, and it will run until 8 September. Designed with children aged 4 and over in mind, it features a series of displays where they can learn about how bubble mixture and water interact. Using different kinds of rings, they can create bubbles of all kinds of sizes and shapes – ones with corners, and ones you can get inside of. The lovely colours of the bubbles aren't just beautiful: they are also a fun introduction to the world of physics and natural phenomena. Bubbles are a delicate mix of air, water and soap – how do they work, exactly? How do they stay perfectly round for a while, only to burst in the end? The organisers have created a cute, old-fashioned laundry room for the exhibition. Here, children get to learn lots of other fascinating facts about soapy stuff and – of course – they get stuck in by embarking on their own experiments. NB: The museum does not have a permanent collection. Instead, it functions more like a space for temporary exhibitions, and the building is only open when an one is running. We therefore recommend having a look at the museum homepage to check what it is currently showing and when it is open. The hands-on museum can also be hired as a venue for birthday parties.
Further information about the children's museum in Munich is available here.
Playing and learning are hard work, so it should come as no surprise if the little visitors to the museum are hungry by the end of their day out. Our tip for when you leave the museum and want something good to eat: Munich's Ratskeller. The rustic restaurant is located underneath the town hall in the very heart of the city, just 19 minutes' walk away through the pedestrianised zone – this means you can do a little bit of sightseeing on your way there. The Ratskeller is an institution in Munich, with over 15 rooms and space for no less than 1,100 people. This makes it the largest restaurant of its kind in Germany, a country where many town halls have a "council's cellar" of their own. In fact, it's so big that you can simply make a snap decision if you want to go there when you leave the museum – you probably don't have to reserve a table beforehand. Your children will be particularly interested in one thing: the special kids' menu, with options such as a small pork chop with dumplings, hash browns with apple sauce and lots of other irresistible treats. Grown-ups can browse the range of Bavarian specialities, such as pork knuckle with a side dish of sauerkraut and potato dumplings.

Getting here: The children's museum is located in the section of Munich's main station on Arnulfstrasse, which runs along the northern side of the station.
Arrival
Children's Museum Munich
Arnulfstraße 3
80335
Next station
München Hbf (Munich main station)
Our tip: Please make sure to check your train connection and the expected capacity before you start your journey.
More destinations
In Augsburg's Spitalgasse 15, you can admire the all-familiar puppets such as Jim Knopf or Urmel... The whole world on a small scale: Here, young and old are whisked away on a journey through time... The Roman museum was built on the foundations of Kastell Boiotro castle. Films and light... Do you want a riddle? As tricky, creepy and creative as possible? Then this could be a good fit:... For heavy hitters: dive into the world of blacksmithing at the Mühlgassn-Schmiede forge in Kissing... At the "Gruseldinner" (spooky dinner) at Haus Heuport in Regensburg, you may struggle to... Find out about long-lost crafts and technology: it's like taking a trip with Jules Verne. Are jeans American? No, sirree, this popular garment has its roots in Upper Franconia. If you're wanting a cinema experience with a cultural twist, you should drop by the Filmmuseum in... The Air Museum in Engelsburg castle in Amberg features air that you can hear, see and touch, spread...
Share article

Email Copy link