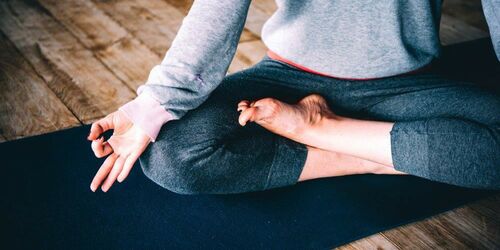 Here, your healthy get-away doesn't end after class. At "Hotel Bayernwinkel - Yoga and Ayurveda", there is much to do, such as therapeutic fasting, using Kneipp water applications, being pampered with a massage or indulging yourself in the vegetarian restaurant. The hotel also offers weekend packages for those wanting to unwind within the shortest possible amount of time. Fancy a Shakti Dance (yoga dance)?
Arrival
"Hotel Bayernwinkel - Yoga & Ayurveda" in Bad Wörishofen
Kellerweg 4
86825 Bad Wörishofen
Next station
Bad Wörishofen
Our tip: Please make sure to check your train connection and the expected capacity before you start your journey.
More destinations
At "Schloss Elmau" in Upper Bavaria, you can try out different styles of yoga, taught by renowned... When it's sunny, people from all nationalities flock to the beer garden at the Chinesischer Turm... Bruckberg is situated between the Upper Bavarian town of Moosburg an der Isar and the Lower... Comfortably upwards, with caracho downwards: The summer toboggan run of the Fröschbrunna Coaster... A visit to Bavaria's third-largest city is like travelling back in time to the Renaissance, largely... Spectacular and blissfully convenient: The "Altmühltalweg" that runs between Pappenheim and... Every Sunday, visitors are enticed to Brombachsee lake for a three-hour brunch boat ride on the MS... The "Barfüßer Hausbrauerei" brewery and beer garden are situated right in the heart of Memmingen.... Adrenaline for the brave: At Tannheim airport you can have a go at being a helicopter pilot... By train into nature to Wolfsee lake, lookout tower and gypsum quarry. In the Steigerwald Nature...
Share article

Email Copy link
Your bookmarks