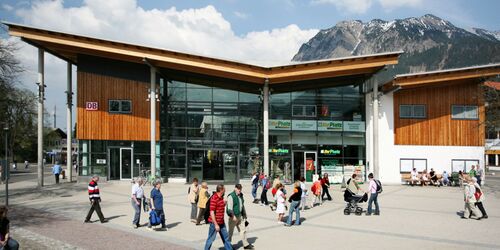 Its architectural style is characterised by straight lines and narrow columns. At the same time, the dark wooden panels remind you of the typical regional farmhouses. This exciting contrast of tradition and modernity is what lead to the station being named "Small Station of the Year" in 2006.
Arrival
Oberstdorf station
Bahnhofplatz 5
87561 Oberstdorf
Our tip: Please make sure to check your train connection and the expected capacity before you start your journey.
More destinations
A station as attractive as its environment. Snakes, lizards, tortoises and poison dart frogs – over 135 animals live at the Reptilienhaus... People on a night out gather in front of the popular Arkadas Döner kebab shop late into the night. "From field to saucepan" – vegan chef Sebastian Copien lives by his motto and delights in sharing... Right next to the railway station, the Alte Simpl in Erlangen has everything Franconian cuisine has... You can see about 500 birds from all over the world in aviaries, pavilions, pond areas and outdoor... Swabia is not only famous for its Spätzle (traditional Swabian dish) – the Rote Wurst (red... Passau experts agree on one thing: the best Greek restaurant in the city is only five minutes from... The Milzwurst (spleen sausage) is most beloved in Lower Bavaria. What makes it so special? Take a... Be warned: these excursion tips may not be to vegetarians' tastes. Because it's all about sausages...
Share article

Email Copy link