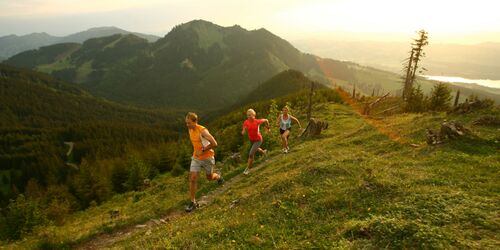 Book a running holiday in the Allgäu that can be adapted to your specific needs and where you can run in pure comfort. From the training support and bespoke running programme through to equipment consultation – the running arena in the Allgäu has all the expertise you need. Just the running is left up to you. And for that you have the perfect environment, where you can run yourself fit with like-minded souls. If your companions prefer their days filled with wellness and relaxation, there is also a huge amount to do.
Arrival
Nesselwang branch
Hauptstraße 20
87484 Nesselwang
Our tip: Please make sure to check your train connection and the expected capacity before you start your journey.
More destinations
With its exciting exhibits, interactive features and workshops, we bet the children's museum in... Old vehicles, modern technology and exciting facts – the Deutsche Bahn Museum in Nuremberg is... Lift some weight off your shoulders: Relax in an open-air, salt-water floating pool, right in the... Find out about long-lost crafts and technology: it's like taking a trip with Jules Verne. As well as big brand stores, the "Stadtgalerie" in Passau also has a number of shops that you won't... In Augsburg's Spitalgasse 15, you can admire the all-familiar puppets such as Jim Knopf or Urmel... A medieval fort in an idyllic setting, a late Gothic chapel with a love of detail, and the world's... At the Opern- und Konzertakademie (opera and concert academy) at Schloss Henfenfeld castle near... Go on a yoga retreat with "bayurvedic" cuisine at Hotel Staudacherhof in Garmisch-Partenkirchen. For heavy hitters: dive into the world of blacksmithing at the Mühlgassn-Schmiede forge in Kissing...
Share article

Email Copy link