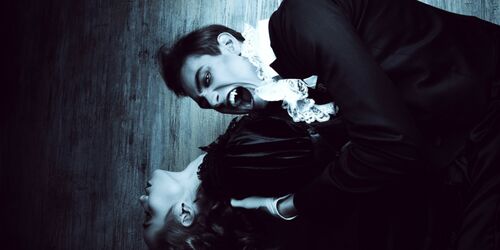 You might struggle to concentrate on your exclusive four-course meal at the "Gruseldinner" (spooky dinner) at Haus Heuport in Regensburg. For at any moment, you may find Jack the Ripper looming over you, Dracula making a threatening move toward your throat, or Dr Frankenstein eyeing you up as a potential test subject. Your agitation may increase when you see that the menu offers potato soup with "bits from the last victim" and the cream sauce was made with poisonous mushrooms.
News, prices and opening hours are available here.
Arrival
Haus Heuport
Domplatz 7
93047 Regensburg
Next station
Regensburg Hbf (main station)
Our tip: Please make sure to check your train connection and the expected capacity before you start your journey.
More destinations
The name, "Café Zafran", in Bamberg is slightly confusing as neither coffee nor cake is served... Take part in a murder mystery dinner at the "Wirtshaus Riegele" restaurant in Augsburg, where you... How about a "Blaue Zipfel" (Bratwurst)? Or Franconian "Schäufele" (pig's shoulder)? Sampling... Bavarian beer culture and traditional values are nurtured at the Ayinger Brewery. The highest restaurant in the Middle Franconian metropolis. At the Opern- und Konzertakademie (opera and concert academy) at Schloss Henfenfeld castle near... For heavy hitters: dive into the world of blacksmithing at the Mühlgassn-Schmiede forge in Kissing... Visit the Costume Museum in Holzhausen and find out what a real Bavarian costume ("Tracht") looks... Why not try out something new, like football billiards and be a human cue, or play crazy golf in... All seems right with the world when you're sitting in the beer garden of the Staudinger Keller in...
Share article

Email Copy link
Your bookmarks