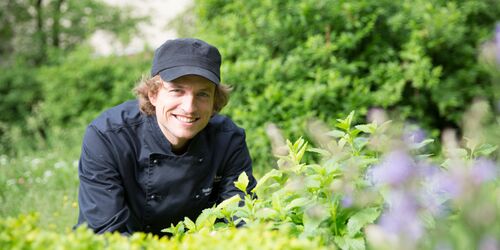 "From field to saucepan" – vegan chef Sebastian Copien lives by his motto and delights in sharing his kitchen philosophy with anyone with a fascination for meat and dairy-free seasonal produce from Bavaria. His garden cookery courses in the heart of Munich have a great deal to offer, covering everything from the basic principles of urban farming, the best vegetables and herbs, through to harvesting crops and different cooking methods. And most importantly, the food is supremely healthy and from sustainable sources. Click here for more information and to book a place.
Arrival
Cookery course with Sebastian Copien
Thalkirchner Straße 80
80337 Munich
Next station
München Hbf (Munich main station)
Our tip: Please make sure to check your train connection and the expected capacity before you start your journey.
More destinations
About ten minutes from Würzburg main station is where you can get possibly the largest pizzas in... The Bratwurstglöcklein restaurant is located a few steps from Nuremberg's main station. The Cantina Diakonia in Munich employs people who are down on their luck in the job market. Andechs Monastery with its bell tower is situated on the east bank of the Ammersee lake. Beer has... Passau experts agree on one thing: the best Greek restaurant in the city is only five minutes from... You won't have to search for long if you arrive in Bayreuth hungry – sushi restaurant Lamondi... People on a night out gather in front of the popular Arkadas Döner kebab shop late into the night. The Alter Simpl restaurant in Erlangen is right near the station and has a menu that boasts... "Drei im Weggla" – Nuremberg residents know immediately what this means: three small, crispy... The Milzwurst (spleen sausage) is most beloved in Lower Bavaria. What makes it so special? Take a...
Share article

Email Copy link
Your bookmarks