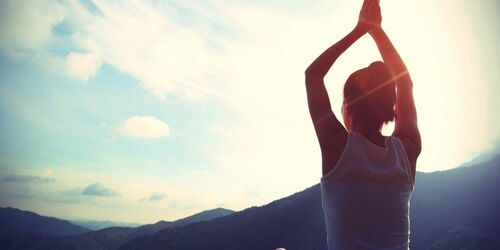 The yoga retreat house "Yoga Vidya Ashram Allgäu" is situated at an altitude of 960 metres and welcomes yoga enthusiasts of all levels – from beginners to yoga teachers. You also have the option of sleeping in a dormitory.
Arrival
Yoga Vidya Allgäu
Lärchenweg 3
87466 Oy-Mittelberg
Next station
Oy-Mittelberg
Our tip: Please make sure to check your train connection and the expected capacity before you start your journey.
More destinations
Hotel HUBERTUS offers yoga classes and multi-day yoga retreats throughout the year. Slow speed ahead! Take a ride in a Zeppelin balloon and you'll get more than just a sightseeing... This railway track winds its way through the foothills of the Alps, past a glorious panoramic... Even a simple stroll can be magical: dive into the world of fairy tales on the Schönwerth fairy... There is a long tradition of mining in the Allgäu. And for this reason an entire museum village... On a walk through the Kunstareal Munich, we follow in the footsteps of King Ludwig I and explore... Even though your intention may be to have a gentle stroll, you'll find that your pace will... Fürth can not only call itself "the city with the highest density of monuments in Bavaria", it... The Bavarian Forest is a region known for glass blowing, and Passau was the centre of this trade... The idyllic region of Gablingen is located around ten kilometres north-west of Augsburg. You can...
Share article

Email Copy link
Your bookmarks