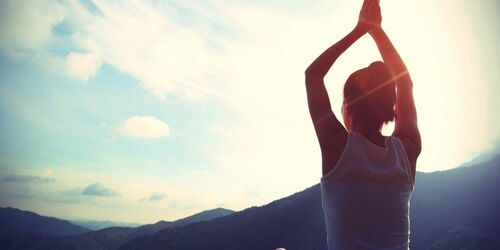 The yoga retreat house "Yoga Vidya Ashram Allgäu" is situated at an altitude of 960 metres and welcomes yoga enthusiasts of all levels – from beginners to yoga teachers. You also have the option of sleeping in a dormitory.
Arrival
Yoga Vidya Allgäu
Lärchenweg 3
87466 Oy-Mittelberg
Next station
Oy-Mittelberg
Our tip: Please make sure to check your train connection and the expected capacity before you start your journey.
More destinations
Hotel HUBERTUS offers yoga classes and multi-day yoga retreats throughout the year. This spectacular route takes you through the streets of tranquil villages, lush green meadows and... There are more than 1,000 caves in Franconian Switzerland. The most well-known and most accessible... Important fact: When you go for a drink in one of the many beer cellars in Franconia, you don't go... This magnificent twelve-kilometre trail follows the river Naab and leads across the Danube to... The Himalayas are in Bavaria: that's the name of the 15-metre-high course for experienced climbers... If you want to experience a pilgrimage route while only taking a short hike, you should set out... A hike in Iffeldorf around the Caribbean-blue Easter Lakes with a dreamlike mountain panorama - for... The Bavarian Forest is a region known for glass blowing, and Passau was the centre of this trade... Examples of nice and traditional beer gardens include the one from the Paulaner brewery on...
Share article

Email Copy link