With animal company, fairy-tale paths and exciting destinations – hiking trips with children can be fun.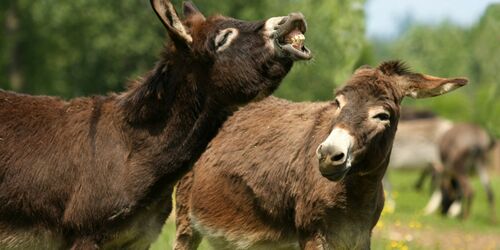 Travelling through the Labertal valley with pack mules
The pack animals carry your belongings, of course, and you will appreciate this the further into the trip you are.
Discover destination
If you've got a donkey carrying your bags, that immediately makes hiking much more fun. And when you're taking a breather, you can simply cuddle up to its soft fur. The six donkeys, Luigi, Vroni, Mario, Fred, Benjamin and Sina, love visitors. From Beratzhausen you can go on guided tours with your animal companions along with the whole family. The choice is yours – would you rather spend a couple of hours or several days travelling with the donkeys?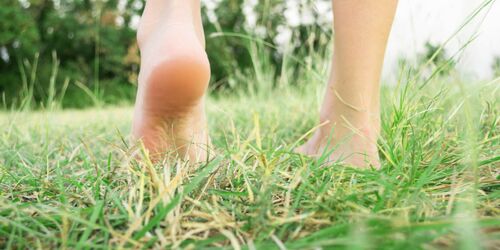 Go on a barefoot hike in the mountains: get back to nature
Cast aside your shoes and socks and treat your senses to a walk across flagstones and spruce cones in the panoramic barefoot park "Panorama-Barfußpark" at the St. Anton cabin.
Discover destination
Not too strenuous and definitely not boring – a barefoot hike on the Kranzberg mountain in Mittenwald is fun for all the family and one of the top destinations with children in Bavaria. On the panorama barefoot path, your little ones can experience how tree cones, warm wood and cool stone feel under their bare feet; they can balance barefoot on logs and stomp through mud. All while mum and dad are enjoying the view.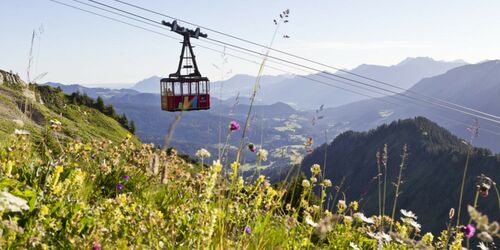 Alpine flowers at Walmendingerhorn mountain
Colourful mountain pastures and fresh mountain air – there's no better way to welcome in spring.
Discover destination
Hiking is even more fun if there are things to discover at the edge of the path – the most colourful Alpine flowers bloom on the Walmendinger Horn mountain in spring. You can also learn something new – you can take part in free tours on the educational flower path from June onwards.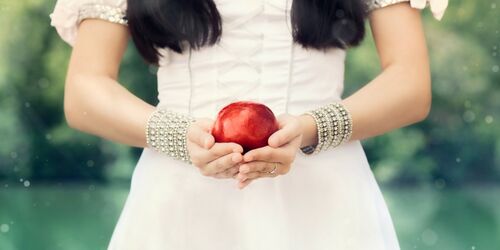 The fairy tale trail in the Upper Palatinate
Even a simple stroll can be magical: dive into the world of fairy tales on the Schönwerth fairy tale trail.
Discover destination
Do your children love exciting stories and family trips? You can combine both at the Märchenpfad (fairy-tale path) near Regensburg – a new fairytale awaits the little ramblers at each station.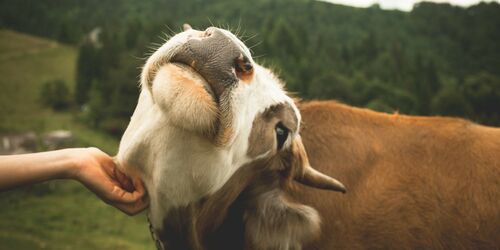 Heuhotel Fischbeck hay hotel in the Pegnitztal valley
Hit the hay for the night – just like Heidi. There are cows in the field and an adorable donkey who'll accompany you on walks here.
Discover destination
If you have a little more time, the Heuhotel (hay hotel) in the Pegnitztal valley is worth a visit – after a night in the hay and a snack in the former pigsty, the whole family can set out for a guided herb walk with the farmer, for a walk with the farm's donkeys or for a night-time walk with some animal companions. The hungry hikers can expect a campfire back at the farm with campfire bread.
A trip to the Ammergau Alps with friends
Want a spectacular view of the Alps without having to put your back out? No problem. The route from Unterammergau to Oberammergau is perfect for you. Once you've managed a short climb, a flat, fairly wide path continues along the mountainside. Easy to manage with a child carrier backpack and it's even no problem with a pram in dry conditions. Half way through the trip, a mountain guesthouse beckons with its fantastic views, refreshing sparkling fruit juice and tasty chips. Maybe your children will enjoy the trip so much that they will repeat it as adults – just like the two sisters in the video.
During the Advent season, children wait with shining eyes for a visit from St. Nicholas. But what is actually behind this custom? In Bavaria, there... Everywhere in Bavaria, there are unique opportunities to find the perfect gift or create one yourself: From charming Christmas stores and historic... You want to burn off energy in winter? No problem. We've done some research and can tell you about five hotspots where icy temperatures won't get in... In our latest episode Unboxing Bavaria, discover the lovingly run farm "Rosa Kuh" in Obermichelbach and enjoy fresh, regional dairy products directly... A hint of Alsace is just a short train trip away: simply visit Bamberg. The town in northern... Discover the hidden gem of Bavaria - Miltenberg - by train. From magnificent medieval buildings to... This tour through an open, gently undulating landscape takes you along the edge of two nature... How close nature and culture are can be easily understood on this medium-difficulty cycle tour. You... At 60 kilometres, this circular tour in the Iller and Rottal valleys is particularly suitable for... Views and insights are offered by this extensive cycle tour, which requires a bit of fitness, but...
Share article

Email Copy link