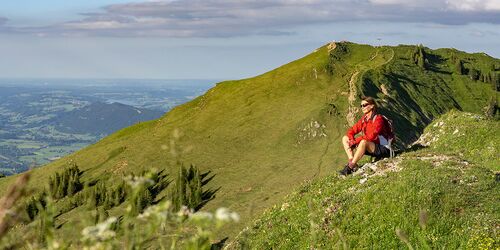 Touring Solo
A day just for you

Finally get out, clear your head, enjoy the view and have the day all to yourself - travelling solo lets you enjoy Bavaria a little more intensively. We have put together the most beautiful excursions and hikes for singles and single travellers for you.
Discover new things on your own
Take time out from your everyday life and go on an excursion by train on your own. You will soon realise that excursions unaccompanied are exciting and different. Whether you are hiking through the Allgäu region or exploring the picturesque old town of Rothenburg, travelling alone in Bavaria gives you the opportunity to clear your head and leave everyday life behind. enjoy Your time out
Design your day according to your ideas
On your solo tour, you yourself are the main protagonist:in your journey and adventure. You do not have to orientate yourself on others but can plan your Day trip or your hike alone at youryour own pace and also only see and do what you wanthe really interested in. How about a hike in the Allgäu Alps? in the Allgäu Alps? Many hiking trails, but also entire mountain tours, are also perfectly by train are also ideally suited for solo travellers. All you have to do is decide where Iyour excursion should go. Also the length and Duration ofhres Tour lies solely in youryour hands. When you alone you can always shorten your hike or make an additional detour to a cosy hut or make an additional detour to a cosy hut.
Your adventure awaits you
Bavaria offers individualists and solo travellers numerous opportunities for excursions and hikes. We have compiled the best inspirations by train for you here. Treat yourself to this special experience of going on a day trip alone in Bavaria. Numerous ideas and inspirations for your "Singles excursion" through Bavaria are waiting for you.
Share article

Email Copy link