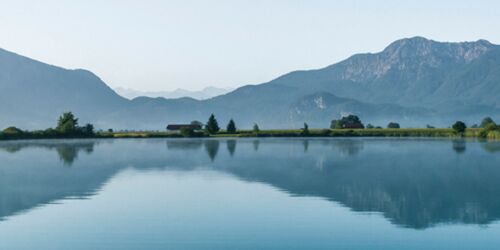 Have you always got your camera at the ready and are you constantly on the hunt for a gorgeous shot? Then these five excursion tips for particularly beautiful Bavarian photo locations are exactly what you're looking for.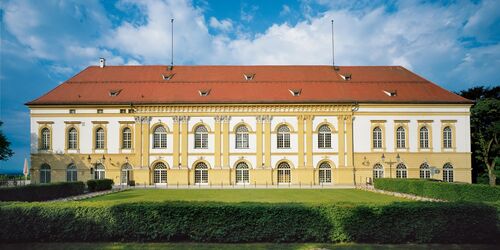 Exquisite gardens at Dachau Castle
As you wander through the picturesque gardens at Dachau Castle on a beautiful summer's day, you may happen to pass by a number of wedding photo shoots.
Discover destination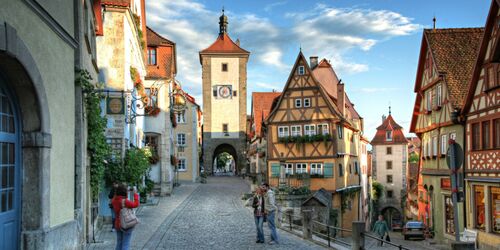 Time travel in the old town of Rothenburg ob der Tauber
Let yourself be enchanted by the historic flair of the old town on a walk through Rothenburg: the town centre attracts its visitors:inside with narrow half-timbered houses and numerous towers like something out of a fairytale.
Discover destination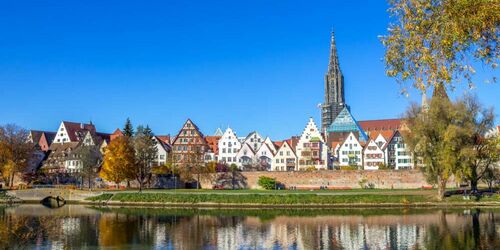 The picturesque "Jahnufer" in Neu-Ulm
Just a short walk away from the station lies the "Jahnufer" riverbank (in Neu-Ulm), and from here you can take photos of Ulm Old Town and Ulm cathedral on the other side of the Danube river.
Discover destination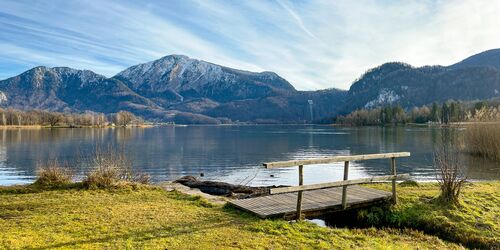 Perfect for nature photos: Lake Kochel
Walk in Franz Marc's footsteps: Kochel am See was both a retreat and a source of inspiration for the famous artist. Let the original locations at the lake take effect on you during a walk and take the opportunity yourself for artistic snapshots at this beautiful lake in Bavaria.
Discover destination
Hotel Orphée in Regensburg has true "star" quality. After all, it has played host to countless... Not feeling festive yet? Then visit one of the many beautiful Christmas markets in Bavaria. Your next train doesn't leave for another hour? Perfect! Short visits to these stations in Bavaria can be an experience. The Gulf of Naples is at home on the banks of the river Main: Aschaffenburg's Pompeiianum is a... At the breakfast cinema in Ansbach you have the chance to enjoy a delicious breakfast every Sunday,... Beach feeling in the Free State: Discover the most beautiful beach & seaside resorts in Bavaria with DB Regio Bayern now. Read now. The Main is also called the "Franconian lifeline", because the river with its wide bends crosses... Bruckberg is situated between the Upper Bavarian town of Moosburg an der Isar and the Lower... You won't have to search for long if you arrive in Bayreuth hungry – sushi restaurant Lamondi... There are 75 kilometres of prepared, modern loipes very close to Oberstdorf station.
Share article

Email Copy link
Your bookmarks