Your best friend is tying the knot soon? Your oldest mate is getting hitched shortly? It goes without saying that you have to organise them a party. A simple night in the pub is out – unusual stag and hen dos are getting more and more popular. And if everyone travels by train, this answers the age-old question of who has to stay sober during all the fun.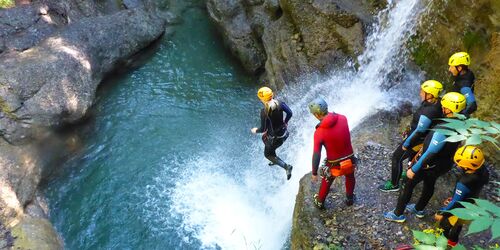 Canyoning in the Upper Allgäu
If you're looking for adventure, then canyoning in the Starzlach Gorge is just the thing for you! You can abseil, jump into water pools and slide to your heart's content.
Discover destination
A stag or hen do for action lovers – brave men and strong women will be in their element when canyoning – don a wetsuit and use a climbing rope to climb down through gorges, mountain streams and waterfalls. Nervousness in front of the altar will be a piece of cake for anyone who has passed this test of courage.
Brewery tour through Upper Franconia
This hike will take you around multiple Franconian breweries, where you will also get to know the culture and scenic attractions in the region.
Discover destination
A cool beer is always on the cards in Bavaria. Great if you are wanting to toast the upcoming wedding at a hen or stag do. Upper Franconia has the highest density of breweries in Bavaria. You can walk from brewery to brewery on 54 different routes here and, in doing so, quench your thirst for a fresh draught beer. Alternative event for beer lovers who aren't so keen on walking – the BierSchmecker® Tour of eight traditional breweries in the major Franconian town of Bamberg. Right then, cheers!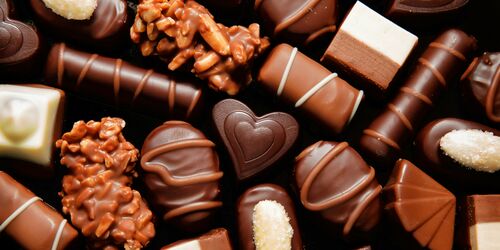 Sheer bliss at the Ludwigsstadt chocolatier
Learn from the best! At Confiserie Lauenstein you can look over chocolatiers' shoulders, as they work at making pralines, and can also have a go yourself.
Discover destination
Willy Wonka and his chocolate factory are unfortunately just a work of fiction. But this trip tip for chocoholics is real – a stag or hen do in a chocolate praline factory. At the Confiserie Lauenstein chocolatier, you don't just have the opportunity to watch the professionals at work, but also create your own chocolate masterpieces. Snacking is obviously allowed. Unless you follow the motto of "you can whet your appetite outside but you eat at home" – and you share the sweet temptations with your loved one at home ...
The Bavarian Forest is a region known for glass blowing, and Passau was the centre of this trade... There are 75 kilometres of prepared, modern loipes very close to Oberstdorf station. Are you looking for a truly different place to stay the night? Bavaria has plenty of them. They will make even sleeping an experience. If you like it romantic, this is the place for you. On this walk in the city of towers, you can... Be warned: these excursion tips may not be to vegetarians' tastes. Because it's all about sausages... The Schlossbachklamm hike is a relaxing excursion in the Inntal region and has a lot to offer for... Follow the trail of the Blue Rider group by rail through Upper Bavaria and visit the workshops of the famous artists Marc, Kandinsky, etc. Waiting for the train and your belly starts rumbling? No problem. The food is a lot better around Bavarian stations than you might think.  On the third weekend of Advent, the scent of mulled wine and roasted almonds hangs in the... Those who come to Bamberg get to choose: Is the visit for the physical pleasures - first and...
Share article

Email Copy link