Far and wide there's no sea in sight – and yet you still want to feel as if you were at a beach paradise? No problem in Bavaria. So pack your swimming costume and jump into these rivers and lakes.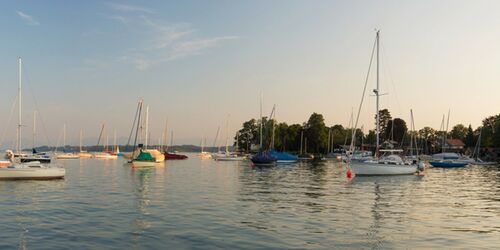 Relaxation and refreshments at Lake Starnberg
Would you rather bask in the hot sun or cool off with a chilled beer? In Seeshaupt, you can have both. You just need to decide in which order.
Discover destination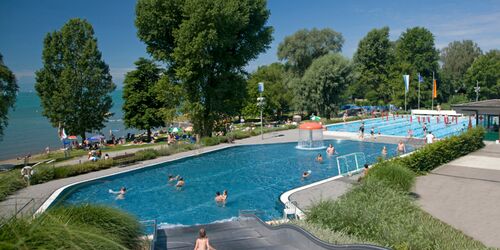 Always an idyllic setting: The Aquamarin Lido next to Lake Constance
An idyllic location on Lake Constance in all weathers. You'll be spoiled for choice when you arrive at the Aquamarin Lido in Wasserburg on Lake Constance. Should you go for a paddle along the beach or take a swim in the pool?
Discover destination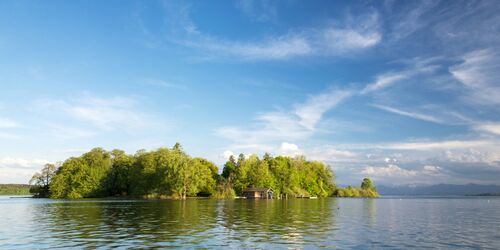 Lido steeped in tradition in Feldafing
The historic lido in Feldafing on Lake Starnberg has been around since 1927. Whereas the changing rooms are still the same, the lawn and restaurant are modern additions.
Discover destination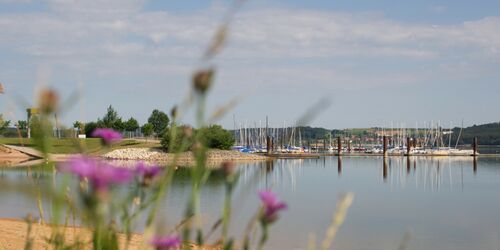 Beach holiday in the Franconian Lake District
Ramsberg on Lake Brombach doesn't just have the largest inland sailing port in Germany but also a sandy beach with a volleyball court.
Discover destination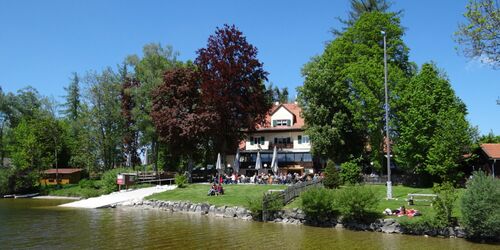 Alpenblick Lido: A swimming haven on Lake Staffelsee
For decades, the small Alpenblick Lido, with its café, pier and boat hire, has been a key attraction in Uffing am Staffelsee.
Discover destination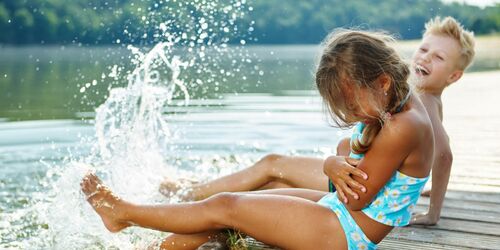 Valentinsbad Lido in Regenstauf: Swim in the river Regen
The river Regen is the second-longest river in the Upper Palatinate, and for visitors in Regenstauf, it's an oasis of rest, relaxation and refreshments.
Discover destination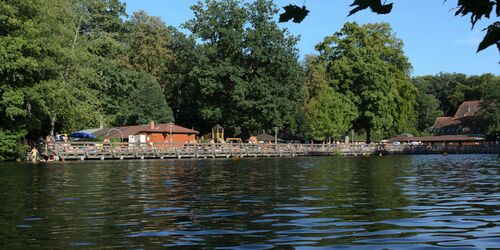 Hainbadestelle Lido: River-lido steeped in tradition in Bamberg
A visit to the Hainbadestelle Lido in the Luisenhain Park in Bamberg has become a tradition. On hot summer days, it's the place to go with your family, and where generations of Bambergers unite to dive into the Regnitz.
Discover destination
Lots of playing and climbing facilities, a fairy tale train and fast rides make visiting the... Kids, we're going on a hike! The most beloved leisure activity in German is a perfect workout for the whole family. These tips will turn the trail... The "Rennsteig" region around Steinbach am Wald has a suitable route for everyone. The routes are... When it comes to climbing and bouldering, concentration plays an important role alongside strength and technique. This is why these types of sports... At the Opern- und Konzertakademie (opera and concert academy) at Schloss Henfenfeld castle near... The Alter Simpl restaurant in Erlangen is right near the station and has a menu that boasts... Fairytale kings, musicians and artists – Bavaria has always produced colourful and famous people. Museums, exhibitions and tours help you find out... These four Bavarian theatres are anything but ordinary – and are very easy to reach by train. Due to its location right by the limes, the little Middle Franconian town of Weißenburg became a... The small Bavarian town on the Red Main has made a name for itself not only as a film set for...
Share article

Email Copy link
Your bookmarks