Far and wide there's no sea in sight – and yet you still want to feel as if you were at a beach paradise? No problem in Bavaria. So pack your swimming costume and jump into these rivers and lakes.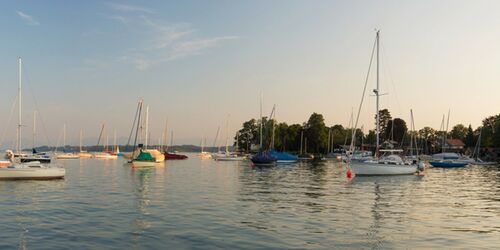 Relaxation and refreshments at Lake Starnberg
Would you rather bask in the hot sun or cool off with a chilled beer? In Seeshaupt, you can have both. You just need to decide in which order.
Discover destination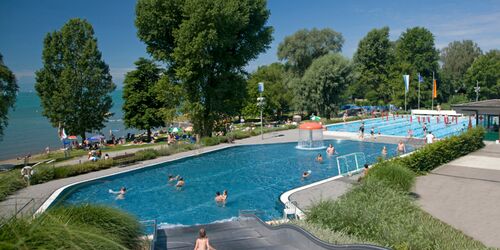 Always an idyllic setting: The Aquamarin Lido next to Lake Constance
An idyllic location on Lake Constance in all weathers. You'll be spoiled for choice when you arrive at the Aquamarin Lido in Wasserburg on Lake Constance. Should you go for a paddle along the beach or take a swim in the pool?
Discover destination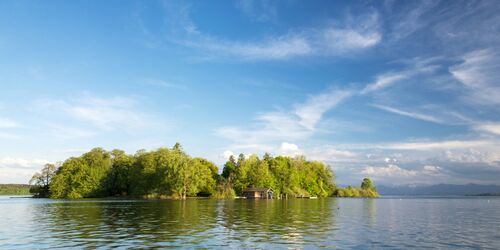 Lido steeped in tradition in Feldafing
The historic lido in Feldafing on Lake Starnberg has been around since 1927. Whereas the changing rooms are still the same, the lawn and restaurant are modern additions.
Discover destination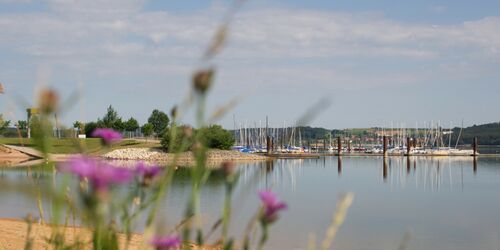 Beach holiday in the Franconian Lake District
Ramsberg on Lake Brombach doesn't just have the largest inland sailing port in Germany but also a sandy beach with a volleyball court.
Discover destination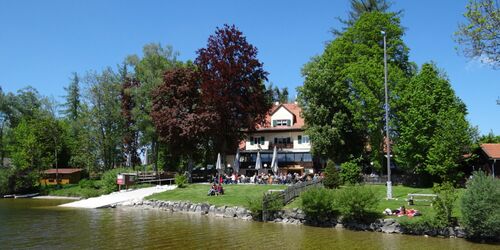 Alpenblick Lido: A swimming haven on Lake Staffelsee
For decades, the small Alpenblick Lido, with its café, pier and boat hire, has been a key attraction in Uffing am Staffelsee.
Discover destination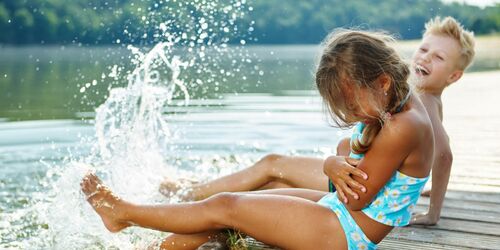 Valentinsbad Lido in Regenstauf: Swim in the river Regen
The river Regen is the second-longest river in the Upper Palatinate, and for visitors in Regenstauf, it's an oasis of rest, relaxation and refreshments.
Discover destination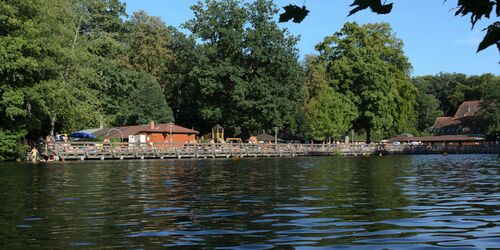 Hainbadestelle Lido: River-lido steeped in tradition in Bamberg
A visit to the Hainbadestelle Lido in the Luisenhain Park in Bamberg has become a tradition. On hot summer days, it's the place to go with your family, and where generations of Bambergers unite to dive into the Regnitz.
Discover destination
Whether climbing forest, summer toboggan run or canyoning on Tyrol's wild water - these excursion destinations guarantee adventure and thrills for... Franconian Switzerland is a paradise for climbing enthusiasts and adventure seekers. The countless... Bamberg is famous for its horticulture. Dive into the life and work of gardeners and wine makers... There are two things you can't miss on a bike tour in Munich: The Isar and beer gardens. Cycle... The 10-kilometre loipe begins right behind Klais station and is dubbed the "sporty" route for good... Dry grassland - that must sound like a neglected garden or a droughty summer? Far from it! This not... Plassenburg castle is nearly 900 years old and was once the centre of power of the House of... Not scared of heights? Then please read on. Here are five trip tips for those who have set their sights high when travelling by rail.  Andechs Monastery with its bell tower is situated on the east bank of the Ammersee lake. Beer has... Swabia is not only famous for its Spätzle (traditional Swabian dish) – the Rote Wurst (red...
Share article

Email Copy link
Your bookmarks