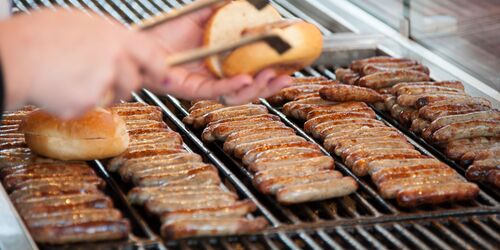 Be warned – these trip tips may not be to vegetarians' tastes. Because it's all about sausages here – whether they're fried, smoked or boiled, there's something for everyone. A culinary journey through the region, hunting for Bavarian specialities from north to south.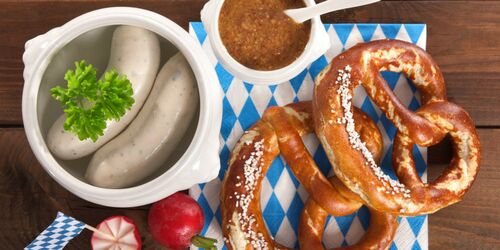 Sausage excursion to Upper Bavaria
There is one thing you cannot miss on your sausage discovery tour, and that is the Weißwurst (traditional white Bavarian sausage). According to legend, it was created right on Marienplatz square in Munich.
Discover destination
One of the most famous Bavarian specialities is definitely the Weißwurst (traditional white Bavarian sausage). It is usually on the breakfast menu in cafés and restaurants, as it is traditionally eaten before midday. This is because there previously was no reliable way of cooling things and the sausage meat was very delicate; this meant that you could only keep them for a couple of hours. Even though things have obviously changed a lot since then, the Munich creation is still normally eaten before midday even now.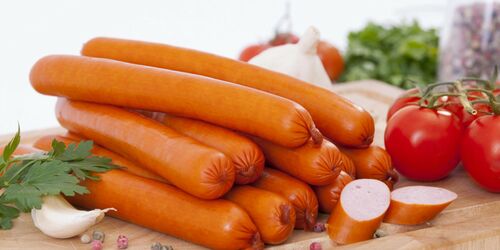 Sausage excursion to Upper Franconia
When the men equipped with a basket and brass boiler lift the cover, the aroma of hot sausages wafts through Hof. The sausages are called "Wärschtla" here.
Discover destination
If you hear someone whistling behind you in Hof, it might be the "Wärtschlamo" (traditional sausage seller). The traditional call of the sausage seller is a loud whistle followed by "Haaß senn sa – kolt wern sa" ("Get them hot – they'll soon be cold"). Anyone who fancies getting themselves a wiener, Knackwurst (a type of sausage widespread throughout Germany), Weißwurst or Bauernwurst (a spicy German sausage), simply has to follow their nose – sausage sellers work in the old town of Hof from Monday to Friday, as well as on Saturday morning.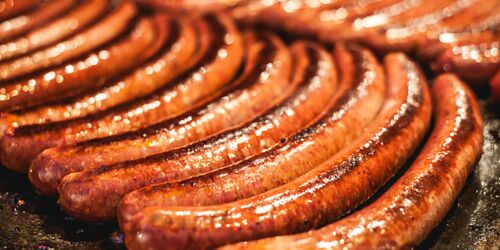 Sausage excursion to Lower Franconia
Be warned: these excursion tips may not be to vegetarians' tastes. Because it's all about sausages here. A culinary journey through the region, from the north to the south.
Discover destination
The Würzburger Feuerwurst (Würzburg fiery sausage) has become a cult favourite. Many people who encounter the 50-centimetre-long Bavarian speciality for the first time reach for their camera straight away. But the hot and spicy sausage isn't just a treat for the eye, but also for your tastebuds. The inventors at the Treziak snack stall won't reveal their secret recipe though.
Sausage excursion to Middle Franconia
"Drei im Weggla" – Nuremberg residents know immediately what this means: three small, crispy Nürnberger Rostbratwürste (Nuremberg roast sausages).
Discover destination
The Franconian speciality "Drei im Weggla" (three sausages in a bun) is available at many stands in pedestrian areas and in restaurants like the "Bratwursthäusle" (little roast sausage house) in Nuremberg. After eating, you can walk from there back to the main station. On the approximately one-kilometre-long route through the old town, you can get a good idea of what Nuremberg is like. This is because the main market, the Fleischbrücke bridge and the Pegnitz river count among the landmarks of the Franconian city.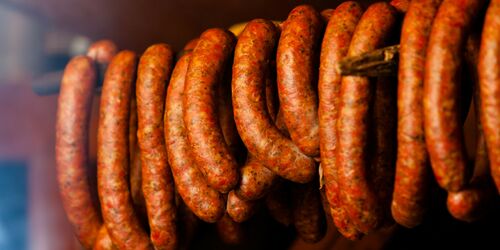 Sausage excursion in the Upper Palatinate
Are all farmers in the east of Bavaria gloomy? The name of this sausage speciality sounds melancholic: Bauernseufzer, or "farmer's sigh" in German.
Discover destination
How did the Upper Franconian sausage specialist "Bauernseufzer" (which means farmer's sigh) get its name? There are lots of stories about this. One of them goes like this – about one hundred years ago, roast sausages were a special treat reserved for feasts in the countryside. Good meat was immediately made into sausages, smoked and put in the pantry for storage after slaughter. If people came to visit, the host had to serve the sausages – but only reluctantly and with a heavy sigh.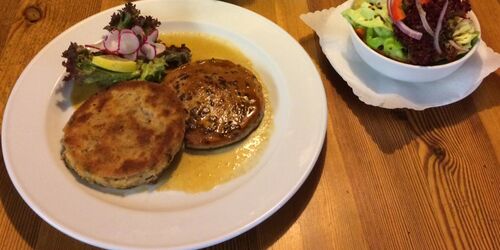 It's all about the Milzwurst (spleen sausage) here
The Milzwurst (spleen sausage) is most beloved in Lower Bavaria. What makes it so special? Take a trip to the ducal town of Straubing and find out for yourself.
Discover destination
The Milzwurst (spleen sausage) is most common in Lower Bavaria. It shares its main ingredient with the most Bavarian of all Bavarian specialities – it is 65 per cent Munich Weißwurst sausage meat. But the two sausages are prepared in completely different ways. While the Weißwurst is boiled, the Milzwurst is usually either browned in the pan, coated with breadcrumbs and fried or roasted in the oven.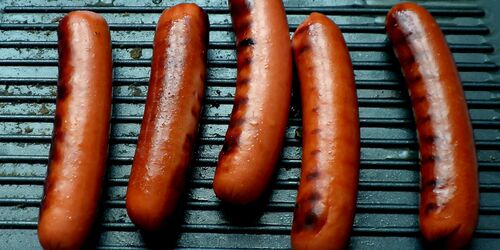 Sausage excursion to Swabia
Swabia is not only famous for its Spätzle (traditional Swabian dish) – the Rote Wurst (red sausage), or simply just Rote (red), is a speciality of this region.
Discover destination
To ensure that the skin of the Rote Wurst (traditional red-coloured sausage) doesn't burst on the grill, it is slit a number of times with a sharp knife. It is particularly common for a cross to be cut into the ends of the sausage. But every cook has their own scoring technique for perfect results. Grilled so it is nice and crispy, the Rote Wurst is traditionally placed in a bun and eaten with mustard.
Bertolt Brecht allegedly said that "the nicest thing about Augsburg is the train to Munich." Of... If you would like to have a look round the city away from the usual sights, we recommend taking the... This is where all the threads come together: at the Bamberg Marionette Theatre. Although there is... Travelling to the camp site by rail? No problem. Since you don't need to bring a tent or a caravan with you when visiting these camp sites. The best... Go on a yoga retreat with "bayurvedic" cuisine at Hotel Staudacherhof in Garmisch-Partenkirchen. Quick trip to Bamberg: spend the day sightseeing in the old town, and spend the evening sampling local cuisine. A visit to the Hainbadestelle Lido in the Luisenhain Park in Bamberg has become a tradition. On hot... A day out: From a medieval journey through time to a Riviera feeling, there is something for everyone. We present beautiful places in Bavaria that... Are you looking for a truly different place to stay the night? Bavaria has plenty of them. They will make even sleeping an experience. The Burghotel in Rothenburg ob der Tauber is nestled right up against the city walls. Take a stroll...
Share article

Email Copy link
Your bookmarks