Time for a change of perspective – because Bavaria has plenty to offer under the surface as well. Children find trips underground particularly exciting. And the good thing for stressed adults – there's no more peaceful place than a cave in Bavaria.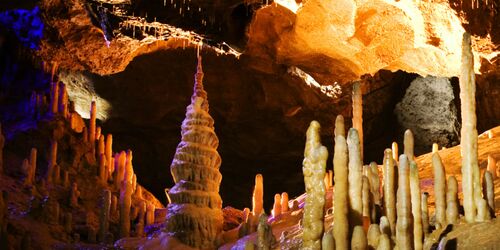 Teufelshöhle (Devil's Cave) in Pottenstein: An impressive feat of nature
There are more than 1,000 caves in Franconian Switzerland. The most well-known and most accessible is the "Teufelshöhle" (Devil's Cave) in Pottenstein, which is one of the most famous stalactite caves in Bavaria.
Discover destination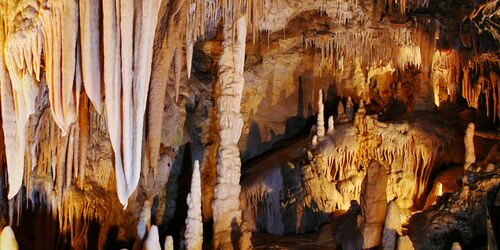 Maximilian Grotto in the "Veldenstein" region
The largest stalactite in Germany. You certainly won't want for things to see in the Maximilian Grotto, which consists of an intricate network of caves and tunnels.
Discover destination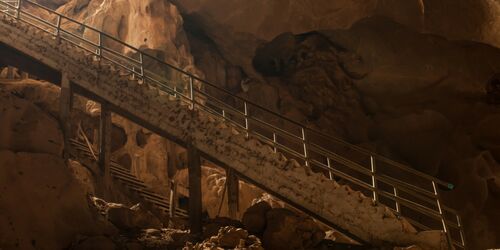 World of discovery on the Grünten in Burgberg in the Allgäu: Discover the world of mining
There is a long tradition of mining in the Allgäu. And for this reason an entire museum village has been dedicated to the "Erzgruben" (ore mines).
Discover destination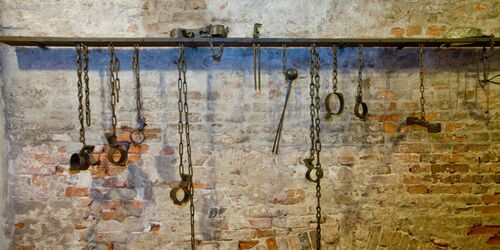 Nuremberg's underground prison cells and tunnels
Below the town hall, 15 gaol cells show what a 14th-century prison was like. In the Middle Ages, long underground passages hewn into the bedrock served as places to brew Nuremberg's beer.
Discover destination
Schlittschuhlaufen, Eisbaden oder ein winterlicher Spaziergang: Auch im Winter warten in Bayern über 400 darauf, von Ihnen entdeckt zu werden. This miniature castle is almost 500 years old and gives visitors an authentic impression of how the... Off on an adventure for the whole family by train! This Nuremberg family hike combines the Toy... Far away from the tourist highlights, the second largest city in Bavaria has lots to offer – from fascinating history to fun at the lake. Beer tour from Coburg to Rödental: Quench your thirst in the myriad of beer gardens and beer... The small Bavarian town on the Red Main has made a name for itself not only as a film set for... Explore the most beautiful corners of Bavaria with the Deutschland-Ticket! We have 5 destinations for you that should definitely be at the top of... A ride on the Zugspitzbahn is an experience! It is one of only four rack railways in Germany and... Wonderfully refreshing: the beer garden at the Seehof hotel is only three minutes from Herrsching... These family-friendly indoor activities in Bavaria are ideal for when the weather is a bit unpredictable.
Share article

Email Copy link
Your bookmarks