Franconian Switzerland – an El Dorado for climbers
Franconian Switzerland is a paradise for climbing enthusiasts and adventure seekers. The countless rock faces have routes for beginners, advanced levels, and experts.
Discover destination
If you enjoy adventures at heights, you should make sure to head to the Alps. In the northern part of Bavaria there are many climbing rocks of every difficulty level. Weißenstein, Hainbronner Pfeiler, Buchenstein and Hartenfels can all be easily reached from the station. The Bergsportschule Bamberg mountaineering school offers climbing courses in Franconian Switzerland, which is one of the most beautiful and largest climbing areas in the world.
The Monkey Cage climbing gym is a place where climbing enthusiasts of all levels and age groups can climb to their heart's content on 950 square metres of boulder surface and 85 square metres of boulder surface for children. There is also a sauna, a beer garden, the Monkey Bar, yoga courses and slack lines. You can easily spend an entire day here.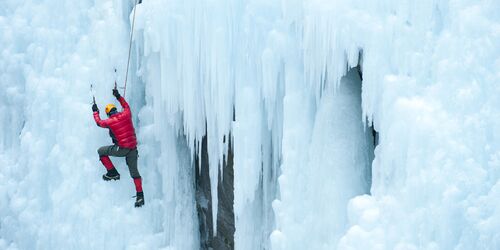 Ice climbing in Oberstdorf
Anyone can hack their way along frozen waterfalls and abseil down icicles when they have the right instructor. And it's great fun, too!
Discover destination
Abseiling from icicles, climbing along frozen water falls, and feeling the rush of adrenaline: you can do all of these things in Oberstdorf im Allgäu. The Bergschule Oberstdorf mountain school offers two-day ice-climbing courses for example, under the supervision of experienced mountain guides.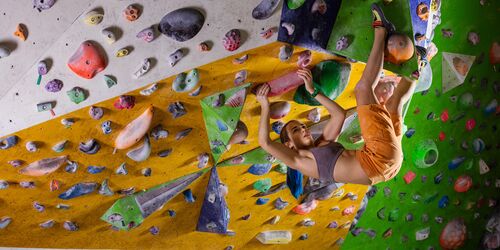 Bouldering wall E4 in Nuremberg
Fancy dangling off a wall? With an area of 2,000 square metres, E4 in Nuremberg is one of the largest bouldering walls in Europe, and a place where you can push your limits in a safe and fun way.
Discover destination
One of the largest bouldering centres in Europe is located in Nuremberg. E4 features 2,000 square metres of climbing surface – almost an endless number of routes of up to 4.5 metres in height. Every Thursday, one section of the climbing area is rearranged, meaning it never gets boring, even for experienced climbers. Climbing newbies can take part in free induction courses in the climbing hall each Thursday.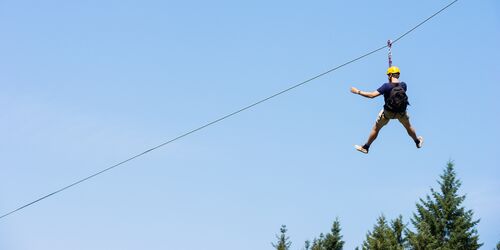 "Flying Fox" in Bavaria: Garmisch and Munich
Take a ride on the "Flying Fox" zip line in Munich or Garmisch-Partenkirchen and soar across the sky like an eagle.
Discover destination
Possibly the most spectacular climbing forest in Bavaria: if you find bouldering and climbing too daring, test out your head for heights in Garmisch-Partenkirchen. 13 obstacle courses are only a half hour's walk away from Garmisch-Partenkirchen station. They feature a total of 123 climbing elements, of which are 15 zip lines between 25 and 90 metres long. You can use the flying fox by the Olympiaschanze ski jump if you pay extra. The view of the small town, the ski jump and the alpine scenery are magnificent when you glide down into the valley at up to 70 km/h.
With the Deutschland-Ticket and the DB Regio Bayern trains, you can easily get to the most beautiful cycling tours in Bavaria. We have put together... Explore the most beautiful corners of Bavaria with the Deutschland-Ticket! We have selected five fascinating destinations for you that should... Discover the most exciting places in Bavaria together with your children with the Deutschland-Ticket! We have selected five fascinating destinations... Explore the most beautiful corners of Bavaria with the Deutschland-Ticket! We have 5 destinations for you that should definitely be at the top of... Every year on 1 May, very special trees grow tall in Bavaria - the May trees. We show you in which cities and towns you can experience this... On this tour through the charming Franconian Forest, you will learn what can happen when man and... Bavaria's multifaceted museums opens up new perspectives that will leave a lasting impression on you. Visit the Bavarian museums on an excursion by... Let yourself be inspired by the flair of the old town and its sights on a walk through Kitzingen:... Attention winter fans: Get inspired by our ice-cold adventures in Bavaria. From winter adrenaline experiences to impressive natural spectacles:... For many, Munich is considered the most beautiful and livable city in the world. This is certainly also due to the inspiring art scene away from...
Share article

Email Copy link
Your bookmarks