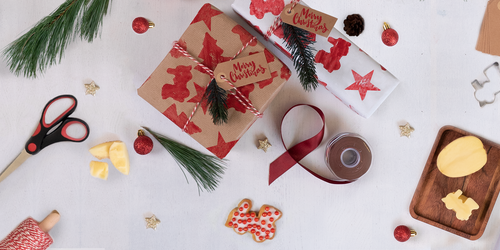 Advent with DB Regio Bayern
Creative ideas for the Christmas season!
Creative through Advent: We provide you here beautiful inspirations for Do it Yourself ideas in the Christmas season. Because: This December, everything is different. We make ourselves comfortable at home and diligently plan our trips in 2021. So that nothing is missing in the anticipation, we present you every Advent weekend a beautiful Christmas idea.
Now make your own wrapping paper
With this wrapping paper you are guaranteed to please your loved ones: the self-designed packaging is a real eye-catcher. The best thing: You can design them individually according to your mood. Our suggestion: Provide your individual wrapping paper with Christmas stars or Christmas trees. Of course, we also decided on a train. DIYing - either alone or with one of your loved ones - is definitely fun, and the result is something to behold. Everything you need for the DIY activity: Potatoes, cookie cutters, a knife, paint and paper. We wish you a lot of fun with the DIY and a Merry Christmas!
Bake our gingerbread train now
Pure pleasure: our sweet gingerbread train. Even if we can't go on a discovery tour through Bavaria together this December: Get not only Christmas spirit, but also a little excursion feeling in your own four walls with this work of art on wheels. Bake the train from delicious gingerbread easily yourself and spend time together with loved ones. The recipe is easy as pie and you can show off your creative skills when decorating the train.
Here you can download the baking instructions as a flyer:
Do it yourself now: Individual train pendants for the Christmas tree
These train pendants immediately catch the eye - our DB Regio Bayern Christmas decoration can not only be seen as an ornament on your own Christmas tree, but is perfect as a loving gift for your loved ones. Or you can use the red eye-catchers as gift tags for any surprise packages. The highlight: Each trailer can be provided with a picture of you and / or your friends or family - so you can reminisce together about nice trips and at the same time already make new plans for nice trips in 2021.
Design the train tags quite simply yourself. All you need: Wooden handles, paint, buttons, a cord and your personal photos! Have fun crafting.
Click here to go directly to the DIY instruction video. And here you can download the instructions as a flyer:
Baking cookies with a railroad motif
Simply too(g)ckersweet: our DB Regio Bayern butter cookies! Make yourself, your family or your friends happy with the treats. Fun baking in your own four walls is guaranteed. Enjoy the cookies yourself and why not leave a tin of cookies on your friends' doorstep? Because joy shared is double joy!
Share article

Email Copy link