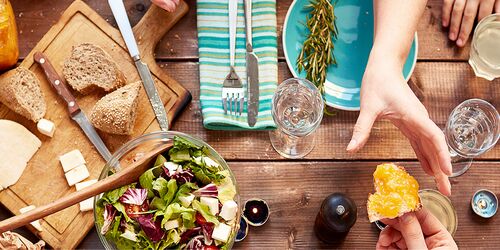 Want to take the train and your belly starts rumbling? The food is a lot better around Bavarian stations than you might think. You can easily walk to these dining spots from the station within 5-10 minutes and they are perfect places to stop for something to eat.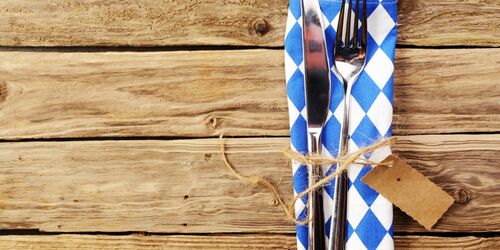 "Sensational food!": at the Alter Simpl in Erlangen
The Alter Simpl restaurant in Erlangen is right near the station and has a menu that boasts everything that Franconian cuisine has to offer, including Blaue Zipfel (Bratwurst cooked in vinegar) and Schäuferle (oven-roasted pork shoulder) and more.
Discover destination
Franconia – a region of culinary delights and the Alter Simpl restaurant is true to this motto. A fresh Franconian draught beer is the perfect accompaniment for Franconian delicacies such as Schäufele (pork shoulder) fresh out the oven. The restaurant has a rustic feel with oak panels.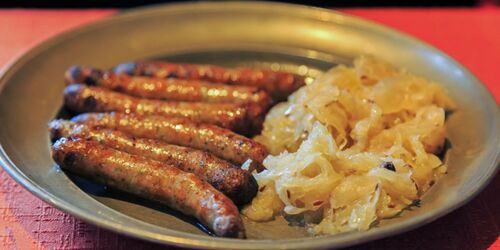 "Six sausages with sauerkraut, please!": the Bratwurstglöcklein restaurant at the Handwerkerhof (artisan yard) in Nuremberg
The Bratwurstglöcklein restaurant is located a few steps from Nuremberg's main station.
Discover destination
You can't leave Nuremberg without having tried this Bavarian speciality – small Nürnberger Rostbratwürstchen (Nuremberg sausages) with sauerkraut. You just have to decide whether you want them grilled, smoked or in wine sauce. And if you want six, eight, ten or even 12?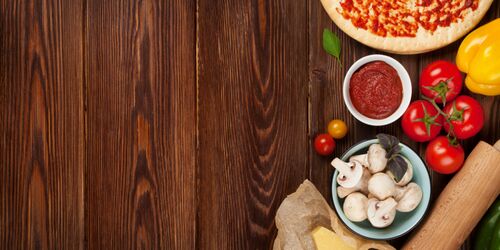 "One enormous pizza, please!": pizzeria Locanda in Würzburg
About ten minutes from Würzburg main station is where you can get possibly the largest pizzas in the city.
Discover destination
Locanda is the perfect place for very hungry travellers. This restaurant with a view of the river Main doesn't just serve extra-large pizzas with every conceivable topping, but you can also fill up on tasty pasta and fresh salads. Of course, you always have the option of sharing the enormous, extremely popular pizzas.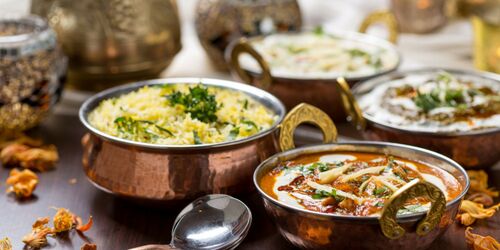 Welcome to the Café Zafran in Bamberg
The name, "Café Zafran", in Bamberg is slightly confusing as neither coffee nor cake is served here. Instead, you can expect to find Indian dishes here.
Discover destination
Spices and aromas waft through the air and tingle on the tongue – take a breather from your everyday life and visit Café Zafran with its exotic offerings. The Indian cuisine featuring curry, snacks such as poppadoms or lentil soup and fresh lassi is both tasty and cheap.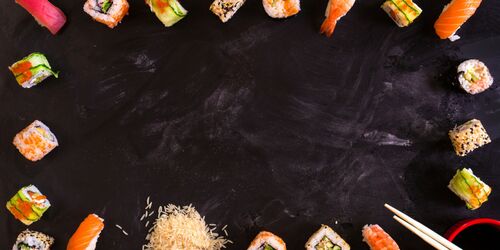 The best sushi at Lamondi in Bayreuth
You won't have to search for long if you arrive in Bayreuth hungry – sushi restaurant Lamondi is directly opposite the station at Bahnhofstraße 23.
Discover destination
Fresh fish, crunchy vegetables – in the sushi restaurant Lamondi you can treat yourself whilst staying healthy. The sushi creations are freshly prepared and are extremely good value for money.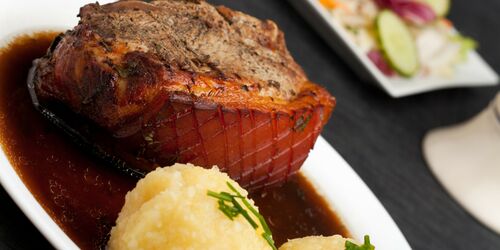 "We're doing something good!": at the Cantina Diakonia in Munich
The Cantina Diakonia in Munich employs people who are down on their luck in the job market.
Discover destination
Treat yourself and be healthy – you can do both here. The small coffee bar with a lounge feel has very friendly and helpful staff and daily specials with freshly prepared dishes. They taste really good and are priced very fairly – small dishes only cost around EUR 5. Invigorated after eating, you can also go shopping in the second-hand store next door.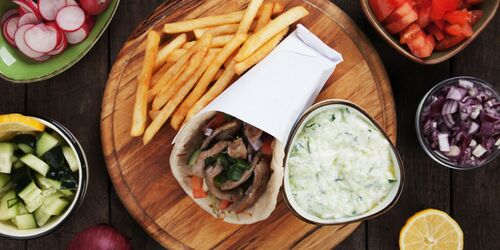 "Jamas!" At Rhodos restaurant in Passau
Passau experts agree on one thing: the best Greek restaurant in the city is only five minutes from the station – Rhodos restaurant.
Discover destination
Gyros, grilled vegetables, squid – hungry travellers can order large portions of Mediterranean delicacies in the restaurant Rhodos. When tasting the food, you feel as if you are transported to a holiday by the sea, all while you're right by the station.
Possibly the most picturesque lido in Bavaria. Those who come to Bamberg get to choose: Is the visit for the physical pleasures - first and... The thermal baths in Treuchtlingen have a special treat in store. The "Altmühltherme" baths are... Every year on 1 May, very special trees grow tall in Bavaria - the May trees. We show you in which cities and towns you can experience this... This railway track winds its way through the foothills of the Alps, past a glorious panoramic... In our stressful everyday lives, it's hard to make the time to travel with friends. But there are of plenty of good reasons why you should. If a day of tobogganing without the tedious uphill climb sounds appealing, then you should catch... A lido for the water-shy? This is the place. If you want to experience a pilgrimage route while only taking a short hike, you should set out... Click! Trip tips for particularly beautiful Bavarian photo locations.
Share article

Email Copy link
Your bookmarks