From the train station in Garmisch, we walk over the Olympic ski jump in the direction of the Partnachklamm canyon. Arrived in the 700 meter long gorge, the rocks rise up to 80 meters to the left and right. The green-shimmering Partnach torrent, which formed the course of the canyon through its water power, thunders downstream over the rapids until it flows into the Loisach. The water drips and trickles from the walls - a breathtaking world of Bavarian mountains awaits you. Listen now:
Subscribe to the podcast now on Spotify , Apple Podcasts , Google Podcasts or click on the subscribe button of the podcast clients and never miss a new episode.
Explore more spectacular destinations now!
We take you to many special places in Bavaria: the Partnachklamm canyon in Garmisch-Partenkirchen is just one of them. Now discover more exciting destinations, like the Schlossbachklamm or the Höllentalangerhütte with DB Regio Bayern!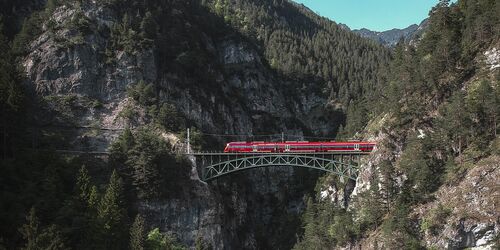 Schlossbachklamm: Varied family hike through the Inn Valley
The Schlossbachklamm hike is a relaxing excursion in the Inntal region and has a lot to offer for nature lovers and bee conservationists. With the Regio-Ticket Werdenfels/ + Innsbruck of the Deutsche Bahn you can travel comfortably and at a family-friendly price.
Discover destination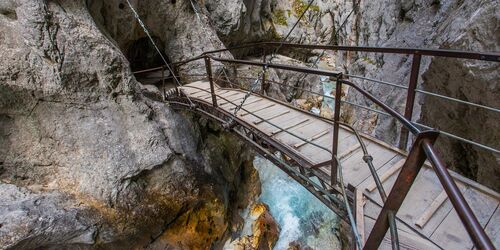 Start a mountain hike at Garmisch station, then climb the spectacular path to the Alpine lodge of Höllentalangerhütte
From fields to mountains: the spectacular Höllental gorge leads through dramatic scenery to a beautiful destination.
Discover destination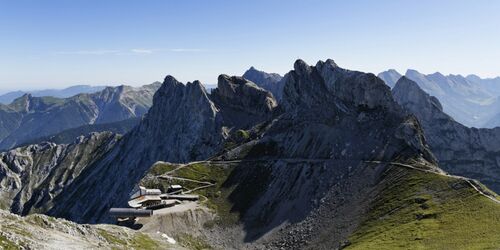 Mittenwald's Karwendelbahn cablecar takes you to dizzying heights
The Karwendelbahn cablecar at Mittenwald only needs a few minutes to whisk visitors from an altitude of 933 metres to 2,244 metres. At the top of the line, they can take in the amazing view of the Isar valley and call into the visitor centre about the Karwendel range's natural environment. The information available there is as engrossing as the building's appearance.
Discover destination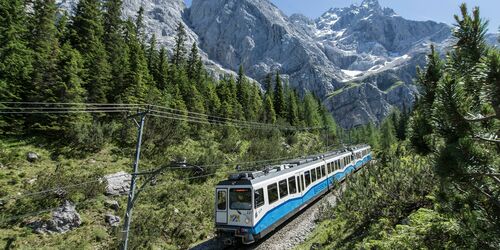 With the Zugspitzbahn to Germany's highest peak
A ride on the Zugspitzbahn is an experience! It is one of only four rack railways in Germany and takes you up Germany's highest mountain.
Discover destination
Share article

Email Copy link