It's the same question every year around the holiday period: where are we going this summer? Why not spend your holiday in Bavaria? The destinations can all be easily reached via train, while also satisfying your wanderlust.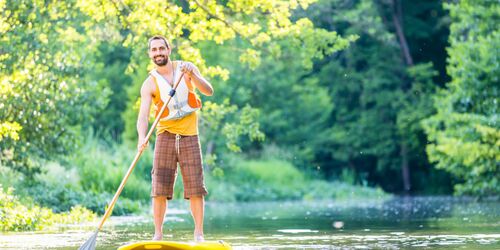 Stand-up paddling in the middle of Nuremberg
Stand-up paddling (or SUP) is fun and incidentally tones your whole body. In the Nuremberg district of Mühlhof you can either hire a board or buy one.
Discover destination
You can rent or buy boards from "Boardnerds" in the Mülhof area of Nuremberg, as well as book courses and take part in stand-up paddling trips. This includes: evening tours on the Regnitz river, riding on a monster-sized stand-up paddling board with family and friends, yoga on a board and – always on Mondays – sitting around a cosy campfire.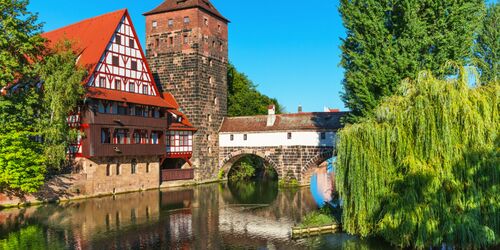 "Knaus Campingpark" in Nuremberg
Summer in the city: "Knaus Campingpark" is incredibly peaceful, despite being right in the middle of the city.
Discover destination
The Knaus Campingpark camp site is the perfect choice for anyone wishing to take more than just a day trip. "Boardnerds" operate in this area as well and rent out stand-up-paddling boards. You can then spend the night at the camp site. Book in time and you can sleep in a mobile home – and then enjoy the city the next day. Nuremberg's old town, castle and zoo are only five kilometres away and can be reached conveniently via public transport.
No need to travel to India for a yoga retreat – a holiday in Bavaria is just as good. In addition to individual sessions, "Das Kranzbach" hotel in Garmisch-Partenkirschen also offers multi-day yoga workshops, yoga-hiking weeks, pilates and meditation courses, personal training, detox and Ayurveda treatments, as well as trends such as aerial yoga. The unique view always provides a special kind of relaxation experience.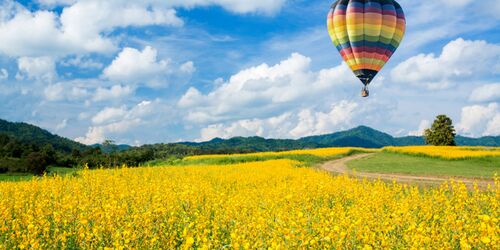 Balloon flight above the Upper Palatinate
Also for people with a fear of flying: A balloon flight above Bavaria is perfect for anyone who wants a relaxing journey without engine noise.
Discover destination
Far removed from the noise of traffic and the hectic hustle and bustle of day-to-day life, that long-awaited sense of relaxation that you can only feel on holiday, is sure to sink in quickly. The balloon rides begin at the Regensburg Dultplatz, in Straubing, Cham, Schwandorf, Weiden, Passau, Neumarkt, Amberg and Wörth an der Donau.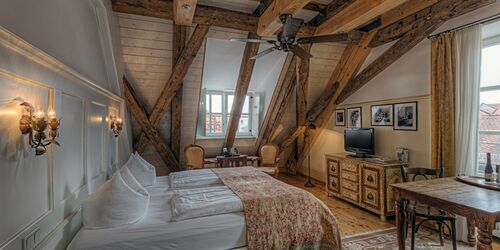 Every room is an experience: Hotel Orphée in Regensburg
Hotel Orphée in Regensburg has true "star" quality. After all, it has played host to countless photo shoots for several magazines.
Discover destination
After the hot air balloon ride you can enjoy the Regensburg old town and spend a night at the Orphée hotel. The rooms are divided amongst three houses, all look completely different, and have often been the setting for magazine photo shoots. The hotel is ideally situated for exploring the city and enjoying the Regensburg flair.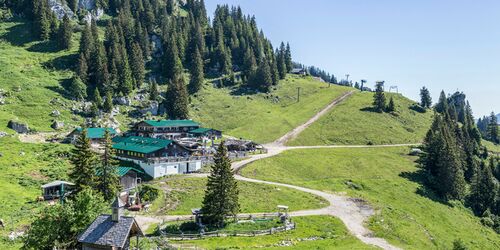 Yodelling workshop on an Alpine pasture
Even if you can't sing, the maestro will promise to teach you to "yodel from the heart" in his workshops.
Discover destination
Add a generous helping of rustic flair to your holiday in Bavaria. At the Stie-Alm farm you can take part in a yodelling course, observe how cheese is made at the dairy, wear yourself out on the climbing area directly behind the house – and then spend the night in one of the guest rooms. You can also rent out a self-catered hut with a panorama view.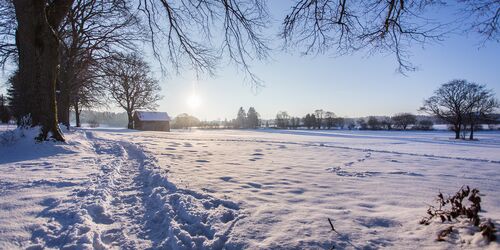 Hiking trip in the Allgäu: From Kaufbeuren to Bad Wörishofen
This spectacular route takes you through the streets of tranquil villages, lush green meadows and bubbling brooks, and will simply take your breath away.
Discover destination
The "Wiesengänger Route" is 463 kilometres long and divided into 21 stages. Whether an experienced hiker or someone who enjoys a more leisurely walk – there is a suitable stage for everyone. One of the more exciting stages is perhaps the section from Kaufbeuren to Bad Wörishofen; from the old town onwards, it travels through lush green fields, over brooks and creeks, and into cool forests. At the end of you hike, you can dip your tired feet in the natural Kneipp hydrotherapy basins in Wörthbach.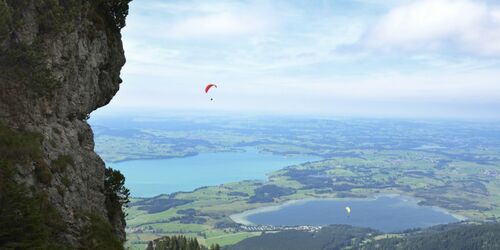 Camping at Lake Bannwaldsee in the Allgäu
The perfect combination: Find just the right spot at this camp site and you'll be able to see the two famous castles, Neuschwanstein and Hohenschwangau.
Discover destination
Would you like to end your hike through the Allgäu on a relaxing note? Then just stay in the area! You can rent camping barrels, caravans and holiday homes at the Camping Bannwaldsee camp site. You'll be greeted every morning with a one-of-a-kind view. Finding the right spot means that you can even see the famous Neuschwanstein and Hohenschwangau castles from your camp site.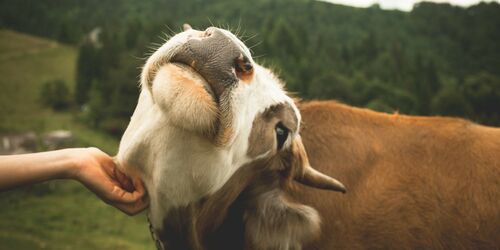 Heuhotel Fischbeck hay hotel in the Pegnitztal valley
Hit the hay for the night – just like Heidi. There are cows in the field and an adorable donkey who'll accompany you on walks here.
Discover destination
Hit the hay for the night – just like Heidi did. Plus, there are cows in the field and an adorable donkey who'll accompany you on walks. You and your children can pet the animals, sample yummy home-made products, have breakfast in an old pigsty and sleep in a former cowshed.
During the Advent season, children wait with shining eyes for a visit from St. Nicholas. But what is actually behind this custom? In Bavaria, there... Everywhere in Bavaria, there are unique opportunities to find the perfect gift or create one yourself: From charming Christmas stores and historic... You want to burn off energy in winter? No problem. We've done some research and can tell you about five hotspots where icy temperatures won't get in... In our latest episode Unboxing Bavaria, discover the lovingly run farm "Rosa Kuh" in Obermichelbach and enjoy fresh, regional dairy products directly... A hint of Alsace is just a short train trip away: simply visit Bamberg. The town in northern... Discover the hidden gem of Bavaria - Miltenberg - by train. From magnificent medieval buildings to... This tour through an open, gently undulating landscape takes you along the edge of two nature... How close nature and culture are can be easily understood on this medium-difficulty cycle tour. You... At 60 kilometres, this circular tour in the Iller and Rottal valleys is particularly suitable for... Views and insights are offered by this extensive cycle tour, which requires a bit of fitness, but...
Share article

Email Copy link