Architectural highlights that feature more than pretty walls and sophisticated floor plans – six trip tips (not just) for architecture aficionados.
Karwendel Nature Information Centre: discovering nature at dizzying heights
There is a lot to discover when you are 2,244 metres above sea level. From the outside, the Karwendel Nature Information Centre resembles a giant wooden telescope, gazing out towards the Isartal valley.
Discover destination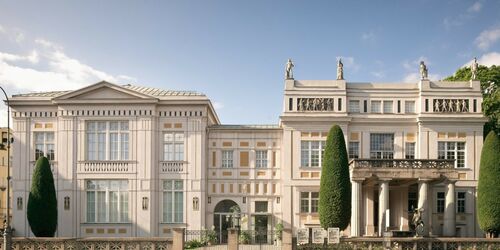 Villa Stuck: Art and leisure in Munich
Insider's tip for art enthusiasts: Villa Stuck was built by Franz von Stuck and is a successful fusion of living quarters, studio and exhibition rooms.
Discover destination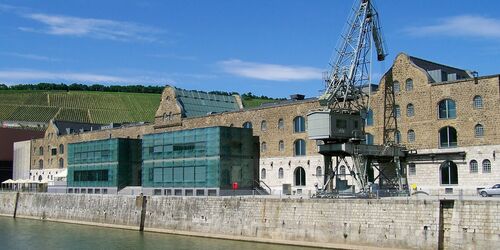 Kulturspeicher Museum in Würzburg
Located right beside the river Main, the old grain storage facility combines an industrial atmosphere with prize-winning modern architecture. The result: a lively location that forms an impressive setting for art and culture.
Discover destination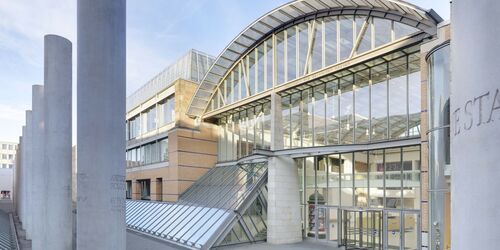 Germanisches Nationalmuseum
The Germanisches Nationalmuseum delivers a vivid presentation of valuable works of art and cultural history from the German-speaking world.
Discover destination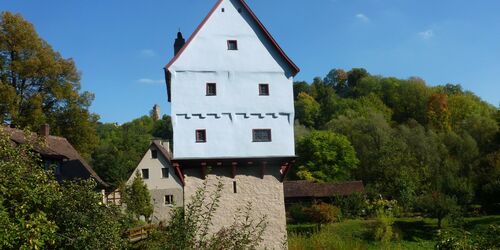 Topplerschlösschen: Possibly the smallest castle in the world
The castle is situated on the edge of the medieval old town in Rothenburg ob der Tauber, and looks like a little house balanced on top of a fortified tower. At once you feel as if you've been transported into a Brother's Grimm story.
Discover destination
A romantic ride in a horse-drawn sleigh in Oberstaufen is just the right thing, if you like being... There is one thing you cannot miss on your sausage discovery tour, and that is the Weißwurst... One of the most attractive major railway stations in Germany. Culture beneath Nuremberg Castle Weihenstephan is the oldest brewery in the world still running. On a tour you can dive into the... These family-friendly indoor activities in Bavaria are ideal for when the weather is a bit unpredictable. Perfect for a day trip by train: stroll through Nymphenburg Palace Park in Munich and explore the... On the third weekend of Advent, the scent of mulled wine and roasted almonds hangs in the... Go on a yoga retreat with "bayurvedic" cuisine at Hotel Staudacherhof in Garmisch-Partenkirchen.
Share article

Email Copy link