Don't want to have your day off spoilt by rain and storm clouds? These family-friendly indoor activities in Bavaria are ideal for when the weather is a bit unpredictable.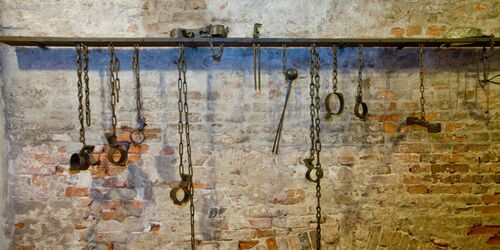 Nuremberg's underground prison cells and tunnels
Below the town hall, 15 gaol cells show what a 14th-century prison was like. In the Middle Ages, long underground passages hewn into the bedrock served as places to brew Nuremberg's beer.
Discover destination
History is tangible right below the Nuremberg old town. There's a spooky feel in the dungeons. Anyone who likes a scare can book an adventure tour in the historic rock passages.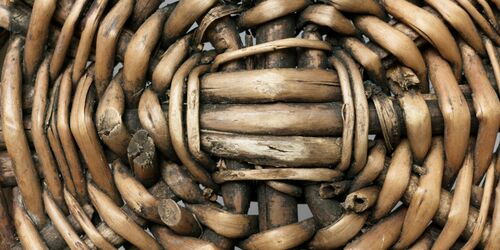 Learn to weave at the Lichtenfels Korbmarkt (basket market)
The little town situated on the Upper Main river is the wicker capital of Germany. If you would like to weave your own basket, you can learn from the local artisans.  
Discover destination
Dexterity is required in Lichtenfels – anyone who takes part in a basket-weaving course can proudly take their work home with them at the end.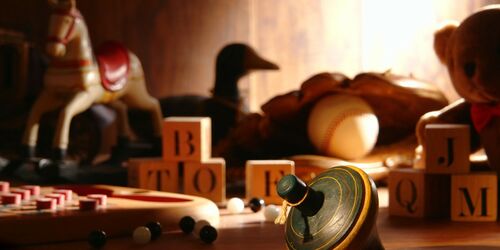 Sonneberg Toy Museum
In the town on the southern edge of the Thuringian Forest, children's eyes sparkle: there is much to marvel at in the Sonneberg Toy Museum.
Discover destination
This was once home to the biggest toy production facility in the world. The Deutsche Spielzeugmuseum (German Toy Museum) is definitely worth a visit. And when the rain stops, you can walk in the footsteps of history with a guided tour of the town on the topic of toys.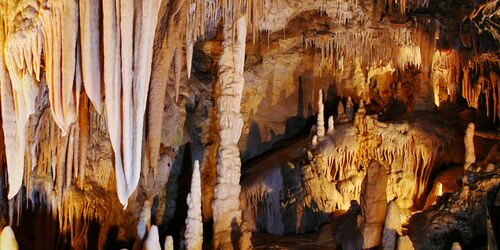 Maximilian Grotto in the "Veldenstein" region
The largest stalactite in Germany. You certainly won't want for things to see in the Maximilian Grotto, which consists of an intricate network of caves and tunnels.
Discover destination
Deep below earth's surface, you won't even notice the bad weather in the Maximiliansgrotte tourist cave east of Neuhaus an der Pegnitz. There's plenty to discover there. Children in particular (and creatively minded adults) will be able to see figures and shapes in the rock – from eagle's wings to organ pipes.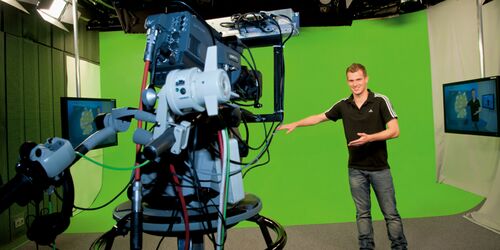 The Bavaria Filmstadt in Grünwald
An exciting place for all ages: The Bavaria Filmstadt film studios in Grünwald, right next to Munich, offers guided tours, activities and a 4D motion simulation cinema. You won't tire of this place easily!
Discover destination
It's a classic indoor activity in Bavaria – you'll certainly not be bored. Each member of your family can become a film star in the exciting interactive activities. And even if you don't want to test your talent in front of the camera, there's plenty to see here.
A night in the Heuhotel (hay hotel) in Unterammergau in Upper Bavaria isn't just exciting for visitors big and small, it's also good for your health – camomile, hops and other flowers are mixed into the hay here and help you to get a good night's sleep.
During the Advent season, children wait with shining eyes for a visit from St. Nicholas. But what is actually behind this custom? In Bavaria, there... Everywhere in Bavaria, there are unique opportunities to find the perfect gift or create one yourself: From charming Christmas stores and historic... You want to burn off energy in winter? No problem. We've done some research and can tell you about five hotspots where icy temperatures won't get in... In our latest episode Unboxing Bavaria, discover the lovingly run farm "Rosa Kuh" in Obermichelbach and enjoy fresh, regional dairy products directly... A hint of Alsace is just a short train trip away: simply visit Bamberg. The town in northern... Discover the hidden gem of Bavaria - Miltenberg - by train. From magnificent medieval buildings to... This tour through an open, gently undulating landscape takes you along the edge of two nature... How close nature and culture are can be easily understood on this medium-difficulty cycle tour. You... At 60 kilometres, this circular tour in the Iller and Rottal valleys is particularly suitable for... Views and insights are offered by this extensive cycle tour, which requires a bit of fitness, but...
Share article

Email Copy link