Science fiction meets Heimatfilm: our short film "Massmenschen"
Get out the popcorn, make yourself comfortable and let two aliens take you on an exciting journey through Bavaria. And afterwards, go on a discovery tour yourself. Have fun!
Sustainable through Bavaria by rail
Two aliens in lederhosen, unique landscapes and a bit of shoegazing in the beer garden. Our film "Massmenschen" is not only a declaration of love to the Bavarian nature, our local culture and the many dear and hospitable people. The film is also an invitation to discover all this in a climate-friendly and sustainable way. Because it has never been more important than today to think of our planet and reduce CO2 emissions. With the train, you can get to your travel and excursion destinations in a particularly climate-friendly way - and you'll also be especially comfortable on the way. So, off you go on your journey!
From Allgäu to Upper Franconia: an extraterrestrially beautiful journey through Bavaria.
Haudi Hera lands in Burgberg (Upper Allgäu). From there, he begins his exciting journey north to meet his colleague Samma Mehra in Breitengüßbach (Upper Franconia). On the map below you can discover his travel route. Along his way, we have put together a few particularly beautiful destinations for you. City trip or pure nature - here is something for everyone. Just click on the respective place on the map. Have fun discovering.
Haudi Heras Ausflugsziele im Überblick: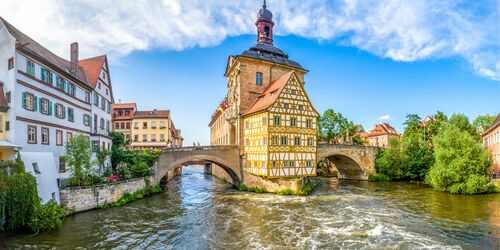 Bamberg: the charm of Alsace in the heart of Franconia
A hint of Alsace is just a short train trip away: simply visit Bamberg. The town in northern Bavaria fully deserves its title of world heritage site.
Discover destination
Share article

Email Copy link