Bavaria's smallest professional theatre is Lili Chapeau in the town of Miltenberg am Main. Measuring 20 m2, it stages impressive performances and has even made its way into the Guinness Book of Records. Probably the smallest castle in the world, the Töppler tower house in Rothenburg ob der Tauber might look quirky, but it's actually nothing short of amazing. Not just because it has managed to survive since 1388 as a dwelling and defensive tower in one, but it also preserves an array of impressive furnishings from the 16th to the 19th centuries. Following the tiny castle and micro-theatre, up next is a mini-cinema. Meisengeige is an absolutely charming arthouse cinema in Nuremberg that screens independent films, classics from the silent era and countless other movies for culture fans. Keeping things small, Bamberg's "Little Venice" has a hint of the lagoon city about it. Little half-timbered houses from the 17th century stand cheek by jowl what was once the fishermen's quarter. Standing on the banks of the Regnitz river, almost every one of them has its own landing for boats. During the summer, you can go on a waterbus trip to admire the buildings from the river - or if you prefer to do things in style, you can order a Venetian gondola. Finally, the tiny treats created by the confectioners at Clement Chococult in Bernried are designed to delight the tastebuds. The sweetmaking experts make their refined and exotic pralines by hand and with painstaking care.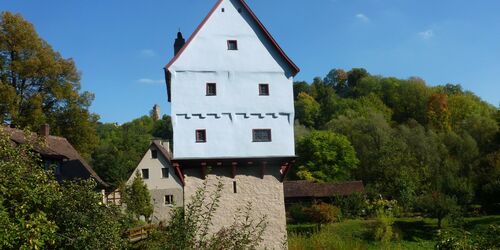 Topplerschlösschen: Possibly the smallest castle in the world
The castle is situated on the edge of the medieval old town in Rothenburg ob der Tauber, and looks like a little house balanced on top of a fortified tower. At once you feel as if you've been transported into a Brother's Grimm story.

Next station
Rothenburg ob der Tauber
Views and insights are offered by this extensive cycle tour, which requires a bit of fitness, but... The yoga retreat house "Yoga Vidya Ashram Allgäu" is situated at an altitude of 960 metres and... Bavarian beer culture and traditional values are nurtured at the Ayinger Brewery. One of the possible starting points along this 18.7-kilometre route is the spa park in Bad Steben... A wonderful trip: Kösseinehaus cabin has been enticing hikers to the Fichtel mountains since 1903. An idyllic location on Lake Constance in all weathers. You'll be spoiled for choice when you arrive... A station as attractive as its environment. These four Bavarian theatres are anything but ordinary – and are very easy to reach by train. The August-Schuster-Haus, which is also called Pürschlinghaus, is a cabin situated above Schloss... Bayreuth's wealth of sights makes it a great place to visit.
Share article

Email Copy link