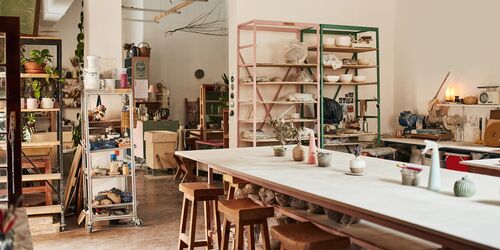 A visit to the Bavarian capital is always a good idea. After all, even after the third or fourth visit, there is still plenty to discover here. Especially when it comes to creative arts and crafts. Explore Munich's studios, talk shop about art and get creative yourself. We have put together a small but fine selection of artistic highlights that you should not miss. Best of all, all addresses are within walking distance of the main train station or Ostbahnhof.
Traditional crafts and the gateway to the underworld
They still exist, these places in Munich where art and craft are inextricably linked. Just a stone's throw from Stiglmaierplatz, the Kunstgießerei München has been producing sculptures in bronze and silver for over 100 years. From the main train station, it's just a 20-minute walk along Dachauerstrasse and Schleißheimerstrasse to a completely different world.
Through the backyard of an inconspicuous apartment building, you enter the wax shop where the molds are prepared for casting. A few steps further on, deep orange glows from the large, dark casting hall. When the traditional melting furnace glows there to liquefy bronze, silver or aluminum, it really does seem like the entrance to the underworld.
The Kunstgießerei München offers show castings for visitors to the workshop at regular intervals. During these events, all the steps involved in art casting are clearly explained and a live casting is demonstrated. Of course, you can also just drop by on weekdays, take in the rooms and have a caytee with boss Hasan Göktepe.
If your stomach is rumbling, you can go to JaVi right next door - there's delicious sushi for fish fans and vegetarians.
Jewel of contemporary art in the Lothringer13
Our next stop on our foray into Munich's art scene leads to Lothringer Straße 13. From the Ostbahnhof station, walk less than ten minutes through the so-called Franzosenviertel. Along Weißenburger Straße, across Pariser Platz and Pariser Straße, until you turn right and stand in front of an old factory building: the Lothringer13 Halle. Here you will find a true gem with exciting insights into international and local contemporary art.
Young as well as established artists present their partly experimental works in the old factory hall. Whether "Eccentric 80s" or "sub-bavaria", the exhibitions change every two to three months, admission is free. If you need a short breather from all the exciting art, retreat to the "lokal". There you'll find soda, tea or coffee at cost, a bookstore with art magazines and cozy corners to read.
Become an artisan yourself in the silver factory
Have all the inspiration and exhibition visits made you want to get crafty yourself? Just a stone's throw from the Lothringer13 is the silver factory on Elsässer Strasse. Here they don't make silver jewelry, but screen-printed. And they do it on jute bags, paper cards, tea towels and many other materials.
The name of the Silver Factory was inspired by the Silver Factory studios of pop artist Andy Warhol, who himself produced screen-printed works of art. With the founder and studied art pedagogue Sarah Braconnier you can let off a lot of pressure yourself in various screen printing workshops. Because the technique of this exciting craft is easy to learn and particularly fun. The workshops at the Silberfabrik are not about perfection, but about getting to know each other and trying things out. The screen printing workshops can be booked through the website. At the end of the course, you will be proud to say that you have created a professional Munich craft yourself. If your stomach is now also squeezing after the screen printing, you can go right next door to the - somewhat fancier - Restaurant Wiesengrund, where there is delicious home cooking and cool refreshing drinks for young and old.
After an exciting excursion into the world of arts and crafts in Munich, we are now heading back to the Ostbahnhof. Are you still a little hungry? On the way to the station, it's worth making a detour to the Nepal Haus on Weißenburger Straße opposite. Over Momo dumplings and typical Thali dishes with lentils, curries and the like, you can enjoy the authentic cuisine of India and reflect on the day.
After a day full of art, handicrafts and wonderful impressions, you will return to the train station, from where you can start your journey home by train.
Share article

Email Copy link