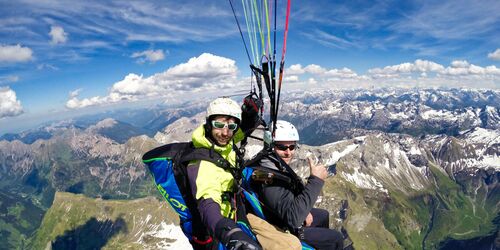 Let's go! Action in the fresh Bavarian air
What could be better than doing sports and enjoying the scenic beauty? Bavaria is blessed with opportunities for extraordinary outdoor activities from the Alps to Franconia. Whether you're an adrenaline junkie, an occasional athlete or an adventure seeker with children, our tips have something for all levels of fitness and all levels of fitness. And best of all, you don't even need a car to get there. DB Regio Bayern takes care of all that stress-free.
Survival training with bushcraft expert Sepp Fischer
If the weather suddenly changes in the mountains or the route planner app fails, you have a real problem. Survival expert Sepp Fischer can teach you how to survive in the great outdoors. The nature boy teaches participants all year round in outdoor courses how to make fire without a match or how to tie almost unsolvable knots and which plant or insect-based emergency food they can resort to without stomach aches. The meeting point will be arranged individually - either near Jachenau near Kochel am See or in the mountain animal park Blindham near Aying. Here is a little foretaste...
If you decide to meet Sepp in Jachenau, you should definitely bring some time and hiking boots and walk the distance from Kochel am See over the summit of the Hirschnhörnlkopf. It's worth it.
You start in Bahnhofstraße and walk south to Schmied-von-Kochel-Platz. Then turn left into Kalmbach Straße and immediately right into Alte Straße, which will lead you to Am Sonnenstein. Cross the street to a forest road, which will take you directly to the hiking trail. From there you can decide how to continue. A short detour to the Lainbach waterfall or directly through the mountains to Jachenau - it's up to you.
Waldhandwerk, Am Lettenholz 34, 83646 Bad Tölz (company headquarters)
Nearest train station: Kochel am See
Paragliding in tandem with "bird-free" professionals
At the start, you're already in a rush, but in the air, with the magnificent Allgäu Alpine panorama in front of you, the happiness hormones soon gain the upper hand. Sailing through the air on the Nebelhorn near Oberstdorf in pairs with absolutely experienced paragliding professionals from Vogelfrei is an unforgettable experience. By the way also to take home, because as extra service one can hold its flight in pictures or even let a video run along from the passenger perspective. If you are interested, please call the hotline at +49 151 12766111. Back on solid ground, the adrenaline rush often makes you hungry! No problem, we recommend the Gasthof Zum Wilden Männle (Oststraße 15), just 200 meters from the Nebelhornbahn valley station at the end of Oststraße. The Vogelfrei booking office is also located on Oststraße. Just follow the signs to the Nebelhornbahn from the train station, 5 minutes walk!
Oststraße 29a, 87561 Oberstdorf
Nearest train station: Oberstdorf
Fast-paced mountain bike trails in Neumarkt in der Oberpfalz
It doesn't always have to be the Alps for mountain biking, the Upper Palatinate also has beautiful, challenging routes to offer. The city of Neumarkt in der Oberpfalz has nine Mountainbike-Trails with different levels of difficulty - from the 24-kilometer Classic Tour to the Ultimate Challenge, where 81 kilometers and 1,800 meters of altitude are to be cracked. As a guided group tour, you start and end at Sports & More (Blomenhofstr. 15). If your stomach is rumbling afterwards, we recommend Bella Italia da Alessandro (Altdorfer Str. 57, about one kilometer into town). By the way, you don't even have to bring your own bike to Neumarkt. The company Zweirad Peter Stadler
(four kilometers from the train station, best to take a cab!) rents out e-mountain bikes, pedelecs or even normal touring bikes.

Dr.-Otto-Schedl-Str. 9, 92318 Neumarkt, Germany
Nearest train station: Neumarkt in der Oberpfalz
With huskies in the Steigerwald Nature Park
Attention dog fans! In Altmannshausen - a 15-minute walk from the Markt Bibart train station, parallel to the railroad line to the northwest, in the direction of Altmannshausen - you can get out into nature with huskies and explore the Steigerwald, in summer on rollers, in winter by dog sled. It is always fascinating to see the joy and enthusiasm with which the four-legged friends pull the teams. Globusline,
the provider actively engaged in animal welfare, by the way, allows not only individual trips, but also entire workshops or experience days, where you can spend especially much time with the dogs. Back in Markt Bibart one can let the day still with Greek specialities in the red horse (Würzburger Str. 2, Tel. 09162/9282430) finish.

Altmannshausen 20, 91477 Markt Bibart
Nearest train station: Markt Bibart
High up in the Banz forest climbing garden
Young and old can excellently train their dexterity and body control in the Banz Forest Climbing Garden, just behind the Benedictine Abbey of Banz Monastery, which is well worth seeing. Call bus 1254 goes there from Bad Staffelstein train station, otherwise it's a 20-minute walk. In the climbing area, there are five different high and difficult courses to conquer. If you would like to round off your Sunday excursion with some culinary delights, you can have lunch at the Berggasthof Banzer Wald
stop.

Banz Monastery, 96321 Bad Staffelstein, Germany
Nearest train station: Bad Staffelstein
Share article

Email Copy link