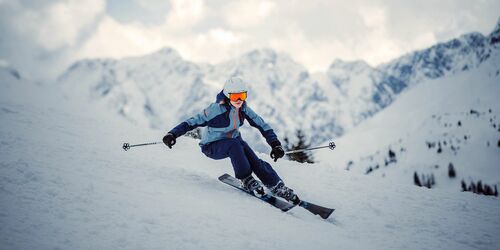 Powder snow, fun on the slopes and après-ski delight – winter sport fans can find everything they're looking for in these five Bavarian ski resorts. No need to worry about snow chains, icy roads or looking for a parking space, these slopes are easy to reach if you are travelling by train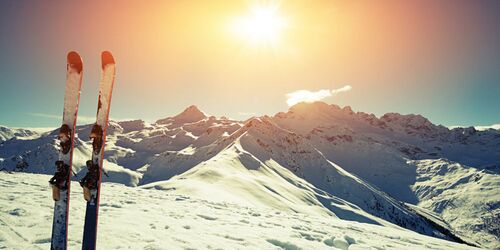 World-class skiing in the small Allgäu town of Ofterschwang
The small ski resort of Ofterschwang is located in Sonthofen, just a few kilometres from the better-known winter sports resort in Oberstdorf. But smaller doesn't necessarily mean worse, as Ofterschwang regularly hosts world cup events. Alongside the pros, it is also perfect for families and novices.
Discover destination
In summer, the Allgäu Alps are covered with flower-filled mountain pastures, and clear mountain streams carve a path down the side of them. In winter they transform into a ski paradise for the whole family. The two-valley ski resort of Ofterschwang-Gunzesried offers 18 kilometres of slopes for both beginners and advanced skiers. There is also a long cross-country trail, 36 kilometres of cleared hiking paths, a snow shoe park, a toboggan slope and a ski area for children right next to the mountain station.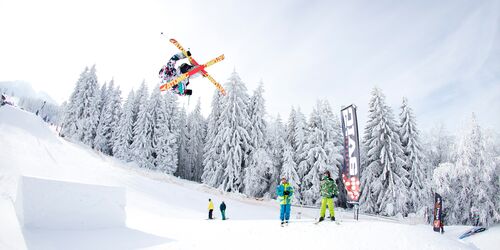 Nesselwang: Paradise for freestylers, snowboarders and slopestylers in the Allgäu
Attention fans of winter sports! Whether you love snowboarding, sledding, skiing or cross-country skiing, the Nesselwang snowpark and its adjoining ski areas have plenty to offer for all ages and ability levels.
Discover destination
Wide family slopes, a black run and a mogul slope – there's something for everyone on the mountainside in Nesselwang. If you haven't got your fill of it during the day, you can ski or snowboard down the mountains on freshly prepared slopes under floodlights from 18:00 to 21:00. The snow park has now become a trendy meeting place for freestylers in Allgäu. Competitions also regularly take place there.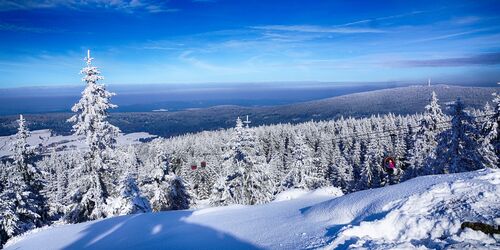 The longest descent in northern Bavaria on the Ochsenkopf
Fun on the slope descents in the Alps: this is possible at the ski resort on the Ochsenkopf in the Fichtel mountains. The two longest descents in northern Bavaria are tempting.
Discover destination
Good news for those of you from North Bavaria – if you're looking for easy and moderate runs, you're in the right place in Ochsenkopf in the Fichtel Mountains. You can find ten kilometres of slopes, pistes with floodlights, a snowboard park and a night-time cross-country ski trail here. The rustic inn Bleaml-Alm is perfect for après-ski.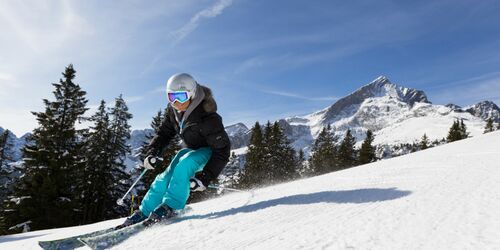 Garmisch-Partenkirchen Ski Resort: Zugspitze and Garmisch-Classic
With a view of Germany's highest mountain, the Zugspitze, skiers can let off steam on 40 kilometres of pistes in the Garmisch-Classic ski area.
Discover destination
What's the result when you combine the ski mountains Hausberg, Kreuzeck and Alpspitze? The Garmisch Classic ski resort with 40 kilometres of slopes and four snow-covered valley runs. Whether you want to speed down into the valley on your board, you're planning to get on your snowboard for the first time or you want to leisurely glide through the snow – this is the place for you. At the Hexenkessel resort there is also a freestyle park of 6,500 square metres in size for skiers and snowboarders.
From the Inn Valley to Oberammergau - these five tours should definitely be on your list for 2022. Although the Augustiner Schützengarten beer garden in Munich, which has seating for 3,000 people,... This place never wants for comfort, no matter the season. Campingplatz Hasenmühle is situated in... "What you wish to kindle in others must burn within yourself." This is the motto of the meditation... The perfect combination: Find just the right spot at this camp site and you'll be able to see the... When it comes to climbing and bouldering, concentration plays an important role alongside strength and technique. This is why these types of sports... Even if you can't sing, the maestro will promise to teach you to "yodel from the heart" in his... No traffic noise, no caravans. Just water, trees and grass. The island of Buchau on Lake Staffelsee... Soft forest and field paths lead you from Neustadt along the course of the stream, up the slopes of... Click! Trip tips for particularly beautiful Bavarian photo locations.
Share article

Email Copy link
Your bookmarks