It doesn't always have to be football or tennis – everyone that likes trying something new (and looking really cool in the process) when it comes to sport will be in their element with these trips.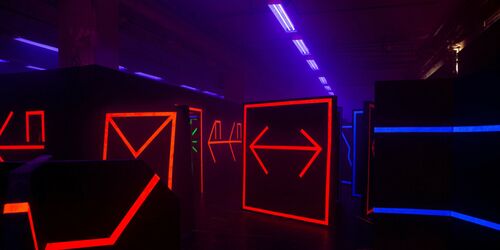 Science fiction: Laser Quest in Würzburg
Ever wished that you could beam yourself into a video game? Well then, get yourself down to the Laser Quest arena in Würzburg! The arena is not too far from the station.
Discover destination
Franconian Switzerland – an El Dorado for climbers
Franconian Switzerland is a paradise for climbing enthusiasts and adventure seekers. The countless rock faces have routes for beginners, advanced levels, and experts.
Discover destination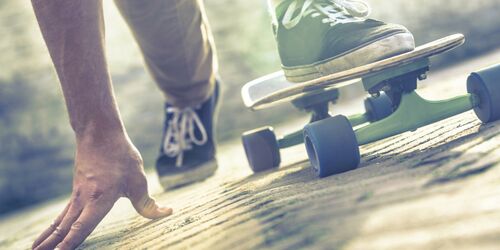 Go skating in Upper Bavaria
In the "Skatepark Holzkirchen" you can show off your new tricks under the open sky.
Discover destination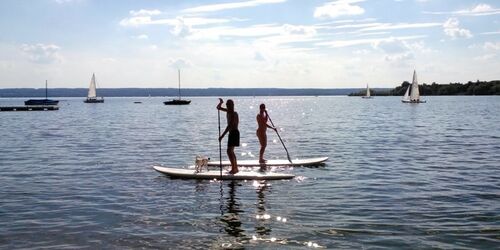 Surfing and stand-up paddling on Lake Ammer
If at heart you've always been a cool surfer girl or brawny beach boy, you can let it shine in Herrsching am Ammersee.
Discover destination
In the north of Bavaria, the pilgrimage route runs from Hof to Nuremberg. For train travellers... Beer tour from Coburg to Rödental: Quench your thirst in the myriad of beer gardens and beer... Follow the trail of the Blue Rider group by rail through Upper Bavaria and visit the workshops of the famous artists Marc, Kandinsky, etc. From the Inn Valley to Oberammergau - these five tours should definitely be on your list for 2022. Ice cream café "Dall'Asta" in Ulm is the perfect place for a refreshing break. After all, it's... Far away from the tourist highlights, the second largest city in Bavaria has lots to offer – from fascinating history to fun at the lake. After a delightful stroll through Kochel, you'll arrive at the lake. But what to do next? Do you go... Attention nature lovers! Discover the impressive moorland landscape of Murnau by bike. Experience... Colourful mountain pastures and fresh mountain air – there's no better way to welcome in spring. The film industry also knows that Bavaria has got lots of beautiful places. Fancy a film location tour?
Share article

Email Copy link
Your bookmarks