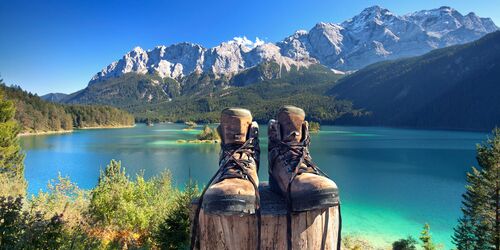 On the road with DB Regio Bayern
Beautiful spring excursions in Bavaria
As if made for spring: five destinations where you can perfectly enjoy spring-warm days - be it a walk through romantic old town alleys or hiking amidst the beauty of nature, which shows its most splendid side in spring.
Finally! In spring, being outside feels perfect again. When the spring sun is shining, and it's pleasantly warm, you simply have to get outside as often as possible. We present five destinations in Bavaria that are just made for an inspiring spring outing. Go on a discovery tour by train!
Spring is the best time to discover new places, explore pretty towns, enjoy nature and unwind. Eat ice cream, drink coffee, or just stroll aimlessly around the squares and small streets of a charming old town. Or experience the spring awakening on a walk across wide meadows or along the shores of the Bavarian lakes.
Whether you feel like an extended spring hike in a blossoming landscape or rather a day trip to an idyllic town: we take you on five exciting spring excursions in Bavaria, all of which are perfect for a varied day trip alone, with friends or family.
Würzburg in spring: an enchanting excursion to the city of romance
Würzburg shines in a special splendour in spring. Flowers bloom on the former garden show grounds, birds sing in the green spaces along the Main, and the sun laughs. Let yourself be enchanted by the magnificent residence, a UNESCO World Heritage Site, on your excursion by train. Stroll through the picturesque old town, lined with historic buildings such as Würzburg Town Hall and Würzburg Cathedral and cosy cafés, or enjoy the beautiful nature that surrounds Würzburg. Whether you're hiking, cycling or drinking wine - Würzburg offers countless opportunities for an unforgettable spring getaway. Travel by train now and experience a magical spring day in Würzburg!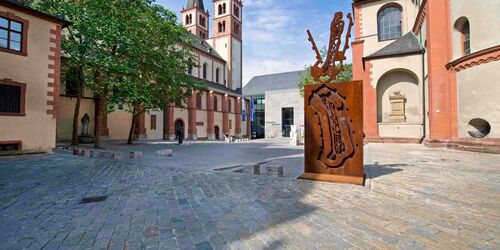 A day in Würzburg
Drink a glass of wine on the Old Main Bridge, admire your reflection in the palace's imperial hall and enjoy a meal at Germany's oldest pizzeria.
Discover destination
Spring excursions: In the footsteps of Franz Marc at Lake Kochel
Lake Kochelsee in Upper Bavaria is a natural beauty in spring. This was already known to the world-famous artist Franz Marc, who found inspiration for his famous works there. Breathtaking views over the water reflecting the landscape, magnificent mountain panoramas, old trees along the shore - the fascinating natural scenery offers photographers and artists almost endless motifs.
The best way to get directly to the lakeside promenade from both the Franz Marc Museum and the railway station is via the Kurpark. If you feel like taking a closer look at the idyllic natural setting, you also have the option of using one of the local hiking trails, all of which are well signposted, to get to the Lainbach waterfall. The route is about 3 km and takes about 45 minutes on foot. You will be rewarded with the natural spectacle at Kochelsee, where a small stream falls in a high arc into a deep pool of water. It is populated by many brown trout and its water is crystal clear.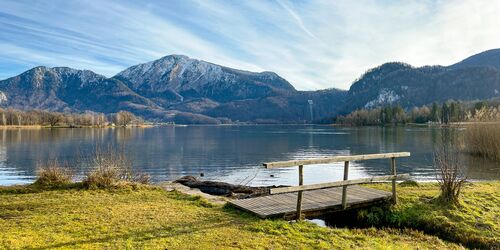 Perfect for nature photos: Lake Kochel
Walk in Franz Marc's footsteps: Kochel am See was both a retreat and a source of inspiration for the famous artist. Let the original locations at the lake take effect on you during a walk and take the opportunity yourself for artistic snapshots at this beautiful lake in Bavaria.
Discover destination
Spring magic in the Altmühl Valley: Hike from Treuchtlingen to Pappenheim
Spring is the perfect time to discover the Altmühltal. An ideal hike for this time of year is the Altmühltal Trail from Treuchtlingen to Pappenheim. This trail is part of the Altmühltal Panorama Trail, which is one of the most beautiful hiking trails in Germany.
On this 7.5-kilometre stage, you hike in a relaxed manner from station to station. You take the courses of the Altmühl, which meanders through the green valley. You admire the colourful flowers along the way and the imposing rocks on the horizon. Furthermore, you visit the spa town of Treuchtlingen with its thermal baths and castle and the castle town of Pappenheim with its medieval fortress and museum. Let the Altmühltal Trail enchant you!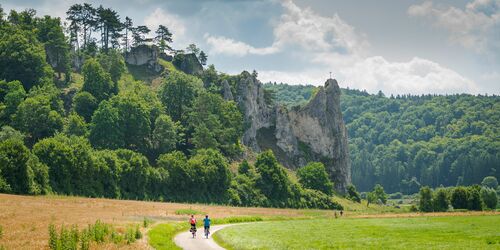 The Altmühltalweg trail
Spectacular and blissfully convenient: The "Altmühltalweg" that runs between Pappenheim and Treuchtlingen is a trail with added convenience, as it leads from station to station.
Discover destination
Magical spring in Rothenburg: culture, nature and enjoyment in a medieval ambience
Imagine walking through a medieval town with half-timbered houses, towers and walls. You admire the historical monuments such as the town hall, St. Jakob's Church and the Crime Museum. You enjoy the fresh air and the blossoming flowers in the Tauber valley. Not only that, but you taste the regional specialities such as snowballs and Landskron beer. Furthermore, you can experience all this when you take a spring trip to Rothenburg ob der Tauber. The old town of Rothenburg is one of the most popular destinations in Bavaria. The town has a largely preserved old town from the Middle Ages, which is a UNESCO World Heritage Site. Rothenburg offers you many opportunities for culture, nature and enjoyment. And last but not least, you can take advantage of the beautiful weather to explore the town and its surroundings. So what are you waiting for? Visit Rothenburg ob der Tauber on a spring excursion by train and let yourself be enchanted by this charming town.
"Spring awakening" in Rothenburg ob der Tauber
A trip to Rothenburg ob der Tauber is always worthwhile, especially in spring, when they welcome in the new season with their own festival.
Discover destination
Off to Lindau for a holiday feeling on Lake Constance
Surrounded by Lake Constance, the island town of Lindau exudes casual Mediterranean flair. Strolling along the harbour, admiring Bavaria's only lighthouse and the famous Lion Monument, discovering the most beautiful shores of the border triangle by boat - a spring trip to the Bavarian Riviera, as Lindau is fondly called, feels like a short holiday to the south in spring. Lindau offers many highlights all year round, but in spring the town is particularly charming.
The meadow orchards on the northern shore of Lake Constance are in bloom and invite you to go on a hike or a bike tour. And on an excursion by boat from Lindau, you also have the opportunity to take a detour to Mainau Island. In spring, the island is transformed into a colourful sea of flowers. The weather in the Allgäu is usually sunny and mild in spring, ideal for a trip to Lindau. The town is not only a pearl on Lake Constance, but also one of the most beautiful small towns in Germany. A visit by train is therefore always worthwhile!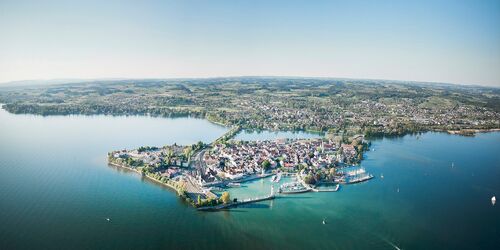 Lindau: the Bavarian riviera on the Swabian sea
The island town of Lindau owes its reputation as Bavaria's riviera to its blend of Art Nouveau buildings and Italian ambiance. Surrounded by Lake Constance, or the "Swabian sea" as it is sometimes called, it effortlessly conjures up a holiday atmosphere.
Discover destination
Share article

Email Copy link