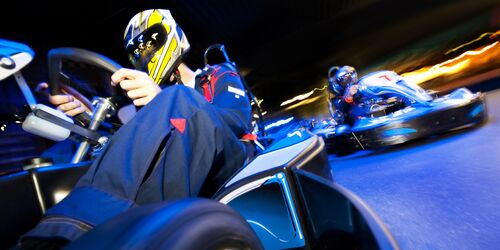 eKart-Center Würzburg
Faster, quieter and absolutely no exhaust fumes: Once you've had a taste of driving an electric go-kart, you won't want to drive anything else ever again.
Discover destination
Fancy being on a race track like Lewis Hamilton or Sebastian Vettel? Hop in a go-kart. The eKart Center in Würzburg uses electric drive vehicles – environmentally friendly and super fast. Put the pedal to the metal and let's go!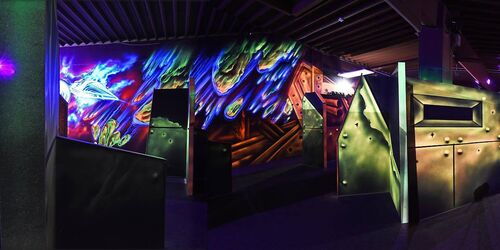 Indoor Funpark Pleinfeld
Why not try out something new, like football billiards and be a human cue, or play crazy golf in the dark.
Discover destination
Indoor Funpark Pleinfeld offers indoor activities in Bavaria for every preference. It's up to you whether you want to challenge yourself with football billiards, laser battles or on the cart course – or train your brain trying to free yourself from an escape room.
Climbing on a bouldering wall trains not only all muscle groups in the body, but also coordination, dexterity and concentration levels. Climbing routes of different difficulty levels await to be conquered at the Monkey Cage Aschaffenburg, both for experienced climbers as well as beginners.
Beach volleyball, beach football and workout sessions in the sand: Bavarians don't need to fly to the Caribbean to do this, or abandon their plans if it rains in the summer – Beach38 is open all year around. The vacation vibe at the venue's beach bar is included.
A trip to Rothenburg ob der Tauber is always worthwhile, especially in spring, when they welcome in... Be warned: these excursion tips may not be to vegetarians' tastes. Because it's all about sausages... True&12 in Munich always serve twelve different flavours of ice-cream. Sometimes, if you're... Climb aboard in Mittenwald, and ten minutes later, you'll emerge into another world – 1,311... Ice cream café "Das Eis im Glück", located in the Johannis quarter of Nuremberg, was once a shop... Due to its location right by the limes, the little Middle Franconian town of Weißenburg became a... Idyllic riparian forests, dunes with wild herbs and reed landscapes await you on this cycle tour... At "indoor Sport Fürth" leisure centre, visitors can either try out new sports or play the more... From Munich to the peaks of Upper Bavaria – entirely free of weekend traffic, but lots of relaxing before and after the journey. Anything is... If you want to experience a pilgrimage route while only taking a short hike, you should set out...
Share article

Email Copy link
Your bookmarks