The perfect destinations for a day trip in Bavaria are often just a train ride away. So why not grab your favourite people and set off on a fascinating trip that is bound to turn your frown upside down!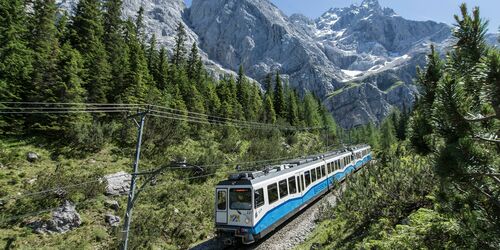 With the Zugspitzbahn to Germany's highest peak
A ride on the Zugspitzbahn is an experience! It is one of only four rack railways in Germany and takes you up Germany's highest mountain.
Discover destination
The Zugspitzbahn (Zugspitze railway) snakes its way up the mountain starting in Garmisch-Partenkirchen. A little pit stop at the Eibsee lake is worth it: at 1,000 metres above sea level, it glitters blue-green in the sun. The 7.5-kilometre circular path around the lake is one of the most beautiful walks in Bavaria. Then it's back on the train to Zugspitzplatt (plateau of Zugspitze), and to the mountain peak either by cable car or on foot. At 2,962 metres, you can almost touch the sky over Bavaria – with the wonderful alpine landscape at your feet.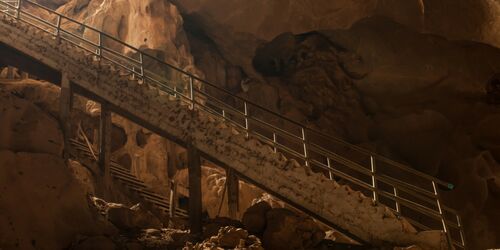 World of discovery on the Grünten in Burgberg in the Allgäu: Discover the world of mining
There is a long tradition of mining in the Allgäu. And for this reason an entire museum village has been dedicated to the "Erzgruben" (ore mines).
Discover destination
Ore mining comes back to life here: In the museum village you can experience how ore was once extracted and exploited in the Allgäu, and watch the smithies hard at work. You'll truly feel like a real miner on a guided tour through the ore mines. The tour is particularly popular on hot summer days, as it's nice and cool underground.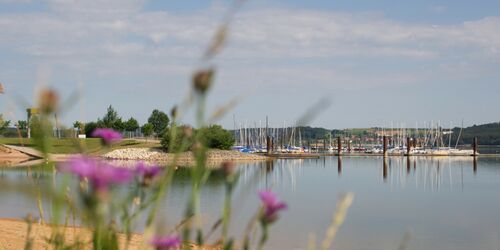 Beach holiday in the Franconian Lake District
Ramsberg on Lake Brombach doesn't just have the largest inland sailing port in Germany but also a sandy beach with a volleyball court.
Discover destination
Looking to cool down, for fun in the water or to relax on a beach? No need to go to Italy, a day trip in Bavaria has all you need. You can splash around, sail, play beach volleyball, build sandcastles, ride a boat and much more in Ramsberg am Brombachsee.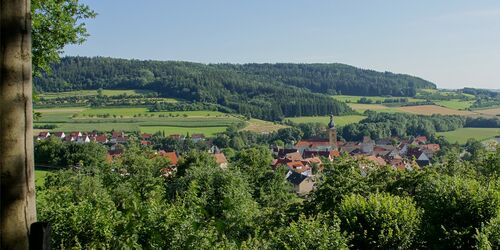 Fünf-Seidla-Steig®: hike through the homeland of Franconia's speciality beers
Forests and fields, great beer and irresistible food: Franconian Switzerland is home to the Fünf-Seidla-Steig® hiking trail that takes you through a beautiful landscape as you visit local breweries.
Discover destination
Go from beer to beer: a leisurely hike and an occasional cold, "Halbe" (half litre) of beer, called a "Seidla" in Franconia are a foolproof combination for the perfect summer's day. The "Fünf-Seidla-Steig" (five Seidla trail) takes you past five different Franconian breweries and can easily be covered in a day. And of course, there will be enough time for thoroughly sampling the beers and enjoying the Franconian snacks!
Germany's most famous climbing area is located in Bavaria: 12,000 routes, numerous steep slopes, and 800 individual cliffs located in Franconian Switzerland are sure to make the hearts of each and every climber beat a bit faster. From beginner to professional, free climber to rope climber – everyone is guaranteed to find a way to the top.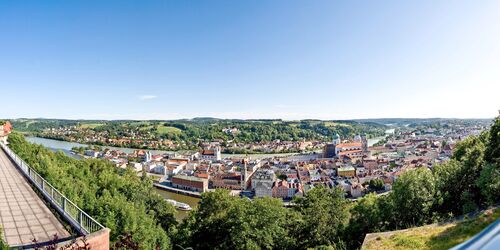 The "Donausteig": A walk through the city and through nature
The 6.8-kilometre "Donausteig" route starts at St. Stephens Cathedral in Passau, and is the perfect walk for occasional hikers.
Discover destination
The "Donausteig" is a 450-kilometre long-distance hiking trail from Passau to Linz. In the first few kilometres, the route goes past the most important sights of the city of three rivers, and after a wonderful panoramic view over the Passau landscape, it is back to the town along the banks of the Ilz. Bring your day to a perfect end by relaxing and wandering through Passau old town.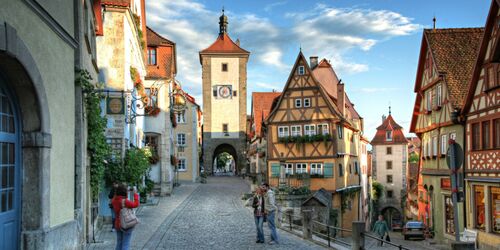 Time travel in the old town of Rothenburg ob der Tauber
Let yourself be enchanted by the historic flair of the old town on a walk through Rothenburg: the town centre attracts its visitors:inside with narrow half-timbered houses and numerous towers like something out of a fairytale.
Discover destination
Historical drama, knight adventures or rather a Grimm fairy tale? Being in Rothenburg ob der Tauber feels like stumbling into a historical set. The old town is one of the most commonly photographed places in Bavaria. We wager that on your trip to this little town, you too will immediately reach for you camera once you see the charming gables and half-timbered houses.
During the Advent season, children wait with shining eyes for a visit from St. Nicholas. But what is actually behind this custom? In Bavaria, there... Everywhere in Bavaria, there are unique opportunities to find the perfect gift or create one yourself: From charming Christmas stores and historic... You want to burn off energy in winter? No problem. We've done some research and can tell you about five hotspots where icy temperatures won't get in... In our latest episode Unboxing Bavaria, discover the lovingly run farm "Rosa Kuh" in Obermichelbach and enjoy fresh, regional dairy products directly... A hint of Alsace is just a short train trip away: simply visit Bamberg. The town in northern... Discover the hidden gem of Bavaria - Miltenberg - by train. From magnificent medieval buildings to... This tour through an open, gently undulating landscape takes you along the edge of two nature... How close nature and culture are can be easily understood on this medium-difficulty cycle tour. You... At 60 kilometres, this circular tour in the Iller and Rottal valleys is particularly suitable for... Views and insights are offered by this extensive cycle tour, which requires a bit of fitness, but...
Share article

Email Copy link