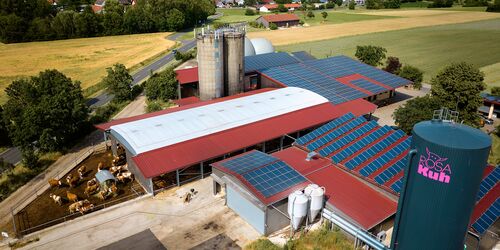 In the idyllic landscape of Franconia, northwest of Nuremberg, lies the small village of Obermichelbach. This is where we take you in our latest episode of Unboxing Bavaria - to the world of Rosa Kuh, a lovingly run farm dairy that has been producing high-quality dairy products since 2020. On the farm, you have the opportunity to breathe fresh country air, get to know the farm and its inhabitants and enjoy the delicious, in-house products.
Tradition and family in the heart of Franconia
The Rosa Kuh is a family business that has existed in the hands of the Bauer family for four generations. Together with their dedicated employees, they preserve the traditional values of Franconian agriculture, where every:r - from the cows to the chickens to the farm dog Flocki and the farm cats - is treated with respect. Incidentally, the Rosa Kuh owes its charming name to the stuffed bunny of the founder's daughter: the bunny was called Rosa, and that's how the idea for the "Rosa Kuh" came about.
A visit to the Franconian farm dairy
On the roof of the farm proudly flies the pink flag, so that the farm is recognizable from afar. Every day between 9:00 and 18:00 the gates of the farm are open to visitors. You can move freely around the grounds during your visit and cool off with a refreshing ice cream at the farm vending machines. In the vending machines you can also find other products of the dairy as well as fresh products from farms in the region.
For young guests, the Rosa Kuh offers a very special highlight: direct contact with the animals. The barn doors are open for interested visitors and they can see where and how our cows are milked. It is also exciting to see how feeding and cleaning robots help to care for the dairy cows.
The Bauer family also regularly offers tours of the farm and its operations, where they explain the philosophy of circular farming, animal welfare and the sustainable use of our raw materials.
For groups, the Pink Cow Farm also offers cheese seminars upon request. These last about three hours and include a tasting of the cheeses that the company offers. Dates and prices for the cheese seminars are available upon request.
Explore the world of Rosa Kuh and be inspired by the passion for quality and tradition that goes into each and every product.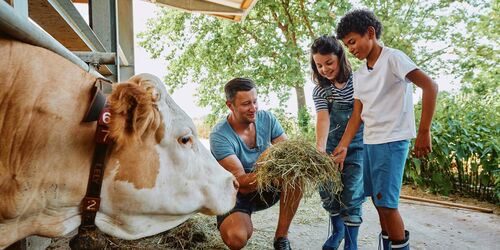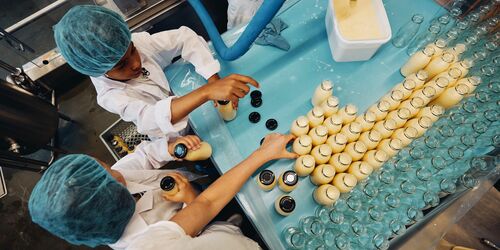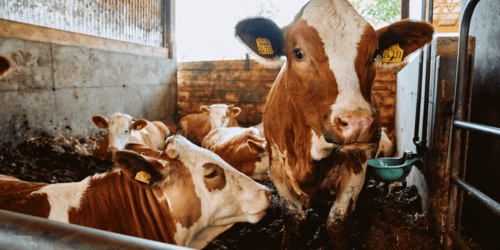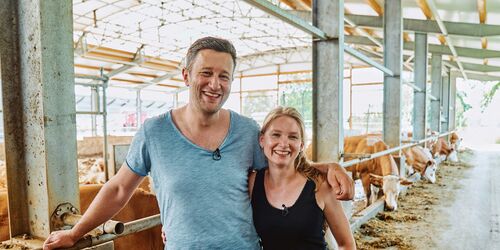 From Bamberg train station, the best way to reach the Rosa Kuh is to take the RE 20 train in the direction of Nuremberg Hauptbahnhof. In Fürth, change to the S6 in the direction of Neustadt (Aisch) Bahnhof and get off in Siegelsdorf. From Siegelsdorf you can reach Untermichelbach, Obermichelbach by bus 126. From here it is about a 6-minute walk south along the street "Am Pfannenfeld" to the farm dairy.
Share article

Email Copy link