According to an old German saying, sleep is a thief that steals half of your life. That's rubbish of course. Even sleeping can be an experience. Like in these very special places to stay the night in Bavaria: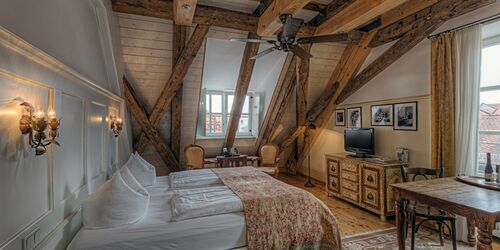 Every room is an experience: Hotel Orphée in Regensburg
Hotel Orphée in Regensburg has true "star" quality. After all, it has played host to countless photo shoots for several magazines.
Discover destination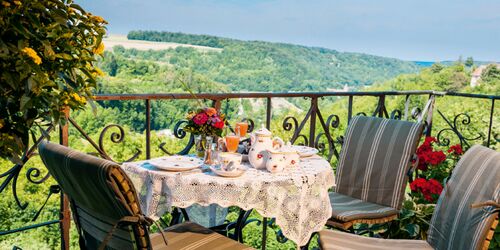 Spectacular views from the Burghotel in Rothenburg ob der Tauber
The Burghotel in Rothenburg ob der Tauber is nestled right up against the city walls. Take a stroll through this historic old town and discover its enchanting past.
Discover destination
Much more than the Wagner Festival: Bayreuth in Upper Franconia. In this episode of our podcast "Hin & Hören" we take you to the diverse city on the... A "four beers" tour in Bamberg: If beer is more your thing than walking, you should take a trip to... In our stressful everyday lives, it's hard to make the time to travel with friends. But there are of plenty of good reasons why you should. The river Regen is the second-longest river in the Upper Palatinate, and for visitors in... True&12 in Munich always serve twelve different flavours of ice-cream. Sometimes, if you're... Dachau impresses with its unique art history and numerous interesting excursion destinations. In... The Roman museum was built on the foundations of Kastell Boiotro castle. Films and light... Oberstdorf rings a bell! Of course, the market town in Oberallgäu is world-famous thanks to winter... The film industry also knows that Bavaria has got lots of beautiful places. Fancy a film location tour? There's always something new to know – for example, that learning can be really fun.
Share article

Email Copy link