According to an old German saying, sleep is a thief that steals half of your life. That's rubbish of course. Even sleeping can be an experience. Like in these very special places to stay the night in Bavaria: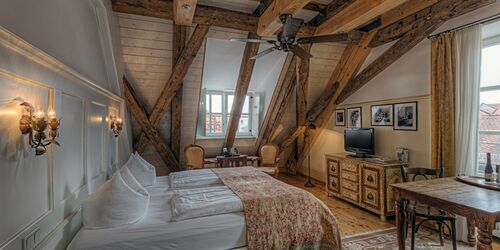 Every room is an experience: Hotel Orphée in Regensburg
Hotel Orphée in Regensburg has true "star" quality. After all, it has played host to countless photo shoots for several magazines.
Discover destination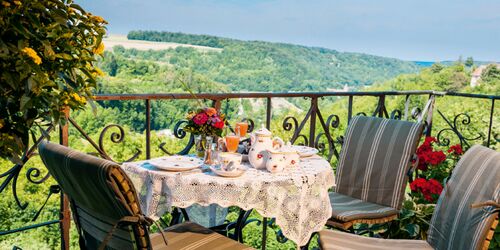 Spectacular views from the Burghotel in Rothenburg ob der Tauber
The Burghotel in Rothenburg ob der Tauber is nestled right up against the city walls. Take a stroll through this historic old town and discover its enchanting past.
Discover destination
Since 2012, Aschaffenburg main station has been graced with the title of "Station of the Year". In the Rottal valley you will not just find an exercise trail, but an entire fitness park. You can... Cabin "Brunnenkopf" has everything you need to relax and unwind: a picturesque backdrop and... A forest full of beer cellars! The Upper Franconia region is at the top of the world when it comes to brewery density. Around 200 companies have... The dream of flying: balloon rides over Bavaria. No other way of getting a view of Bavaria's most... Give kids variety on their special day. Outdoor activities, museums or indoor playgrounds – all over Bavaria, there are exciting destinations that... When travelling with the whole family you need to be more generous when it comes to estimating times, which is why it's better to arrive at the... "From field to saucepan" – vegan chef Sebastian Copien lives by his motto and delights in sharing... There's always something new to know – for example, that learning can be really fun. If you like it romantic, this is the place for you. On this walk in the city of towers, you can...
Share article

Email Copy link
Your bookmarks