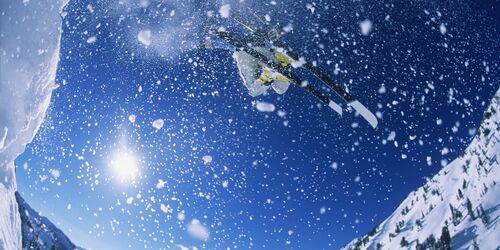 Entertainment, challenges, thrills – you'll get more than enough of that from these winter destinations in Bavaria.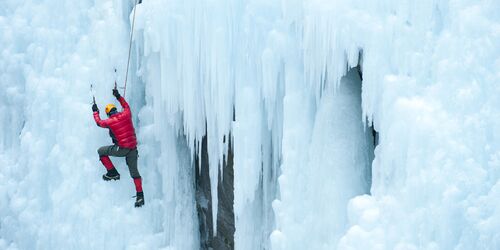 Ice climbing in Oberstdorf
Anyone can hack their way along frozen waterfalls and abseil down icicles when they have the right instructor. And it's great fun, too!
Discover destination
Climbing in winter becomes a particularly challenging activity when it comes to frozen waterfalls and pointy icicles. Experienced instructors from the Bergschule Oberstdorf mountain school will show you the ropes – including safety training and equipment.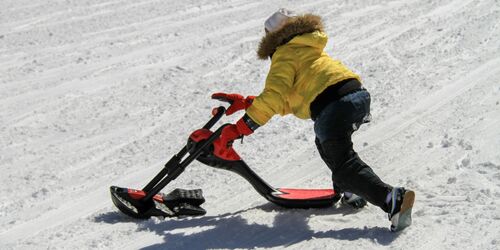 Snowbiking in Immenstadt – get ready for a new kind of exciting winter sport
If you're looking for a sporty activity for the winter, speeding down over five kilometres of natural sled run on the Mittaggipfel on a sled or snowbikeis perfect for both adults and children over the age of six.
Discover destination
Instead of wheels, the snow bikes in Immenstadt im Allgäu feature skids. From elegant weaving to daring schusses and bold drifting, anything is possible. The best thing about it is that the whole thing might look fast and action-packed, but snow biking is actually easy to learn and very safe after a quick induction. The risk of injury is minimal and it's easy on the joints.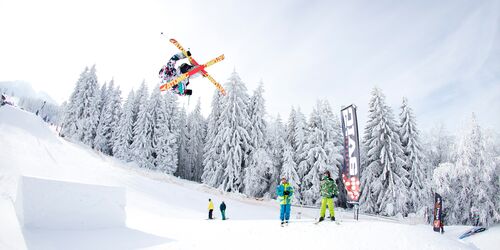 Nesselwang: Paradise for freestylers, snowboarders and slopestylers in the Allgäu
Attention fans of winter sports! Whether you love snowboarding, sledding, skiing or cross-country skiing, the Nesselwang snowpark and its adjoining ski areas have plenty to offer for all ages and ability levels.
Discover destination
A paradise for free stylers: the snow park in Nesselwang features a number of obstacles, jumps and mogul slopes for action fans big and small looking for a particular challenge in the snow. The snow park has become a meeting point for snow sport enthusiasts: the greats of skiing and snowboarding meet here to train and compete. If you want to take it slow in the beginning, you can simply watch the professionals.
Paragliding across Upper Bavaria
As free as a bird: Book a tandem flight over the Blomberg and just relax while your experienced pilot takes care of the steering.
Discover destination
In the winter, there's ways other than the slopes for adventure seekers to get down the mountain – paragliders being one of them. Paragliding doesn't only provide a rush of adrenaline and beautiful views in the summer: if you love soaring up in the air, we recommend a wintry tandem flight from Blomberg mountain. Travel up in a chair lift before soaring at a lofty height over ice-covered tree tops and snowy slopes.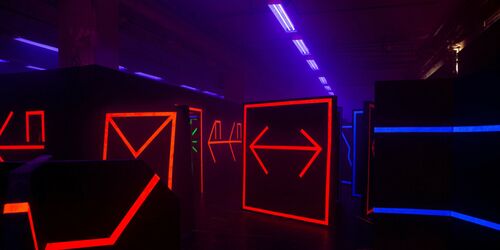 Science fiction: Laser Quest in Würzburg
Ever wished that you could beam yourself into a video game? Well then, get yourself down to the Laser Quest arena in Würzburg! The arena is not too far from the station.
Discover destination
Storms and sleet – in short, wintry weather is simply awful. For adrenaline junkies this doesn't necessarily mean vegging out in an armchair in front of the television with tea and a blanket. Instead they can simply immerse themselves in their very own action film and hunt opponents with laser phasers in the futuristic game environment at the laser tag arena in Würzburg. Between neon-coloured lights and fierce battles, the foul weather is quickly forgotten.
Along the charming banks of the Inn and its streams, you cycle along ancient pilgrimage routes and... Meadows, fields, lakes, rolling hills, shady forest, fairytale rocks and panoramic views down to... Explore the most beautiful corners of Bavaria with the Deutschland-Ticket! We have selected five fascinating destinations for you that should... With the Deutschland-Ticket and the DB Regio Bayern trains, you can easily get to the most beautiful cycling tours in Bavaria. We have put together... Discover the most exciting places in Bavaria together with your children with the Deutschland-Ticket! We have selected five fascinating destinations... Explore the most beautiful corners of Bavaria with the Deutschland-Ticket! We have 5 destinations for you that should definitely be at the top of... Every year on 1 May, very special trees grow tall in Bavaria - the May trees. We show you in which cities and towns you can experience this... Experience the history of the mills along the Rodach, the Ködeltalsperre and a unique natural... Bavaria's multifaceted museums opens up new perspectives that will leave a lasting impression on you. Visit the Bavarian museums on an excursion by... Let yourself be inspired by the flair of the old town and its sights on a walk through Kitzingen:...
Share article

Email Copy link
Your bookmarks