Frozen-over streams, snow-covered tree tops, glistening snow – you can see Bavaria's most enchanting side on a winter hike. These trips through fairy-tale winter forests and enchanted ravines are an experience not to be missed, especially for children, as they remind you of something from a Disney film.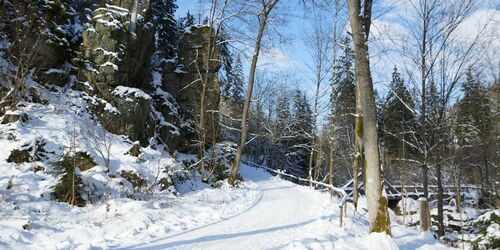 Circular hiking trail in Bad Steben in the Franconian Forest
One of the possible starting points along this 18.7-kilometre route is the spa park in Bad Steben – around a ten-minute walk from the station.
Discover destination
First hike through the snowy Höllental valley and then relax in the thermal bath – this can be done in the small health resort in Upper Franconia. Snow is almost 100% guaranteed because it usually starts to thaw much later here than in the rest of Franconia.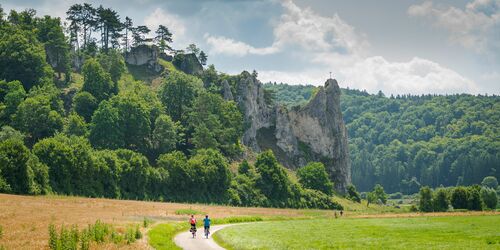 The Altmühltalweg trail
Spectacular and blissfully convenient: The "Altmühltalweg" that runs between Pappenheim and Treuchtlingen is a trail with added convenience, as it leads from station to station.
Discover destination
For those of you who want to take it easier when winter hiking, this hike is perfect – mainly flat, but also extremely varied.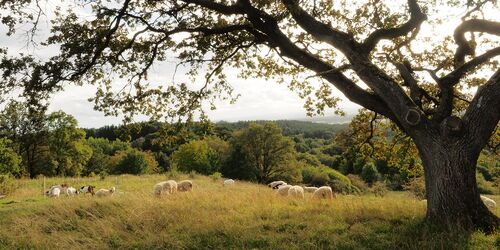 Dillberg: Hiking with excellent views
Idea for a day trip with a change of air: the Dillberg. Enjoy the view of the Nuremberg region on the border between Upper Palatinate and Franconia!
Discover destination
This winter hike follows snow-covered forest paths over the Dillberg hill and past the mysterious Bucher Höhle caves that were carved out of the sandstone between the First and Second World Wars.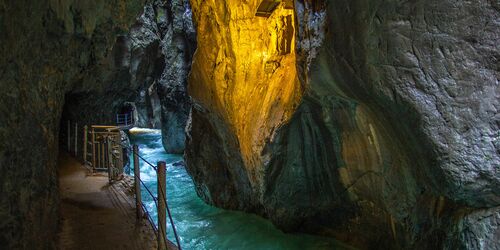 Spectacular: a hike through the Partnachklamm gorge
If you want to experience that canyon feeling, you don't have to travel far. Near Garmisch, less than 1.5 hours from Munich, the wild and romantic Partnachklamm awaits.
Discover destination
Waterfalls frozen into ice sculptures. The snow sparkles in the sun's rays. Glistening icicles as big as a person. Winter hiking in the Partnachklamm gorge is a magical experience.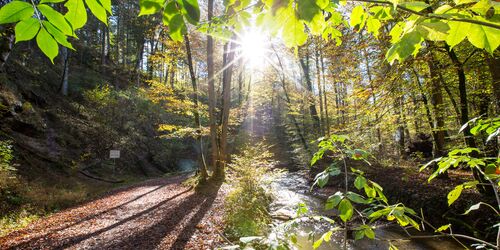 Rambling in the Maisinger Canyon near Starnberg
Traces from the ice age: To the south-west of Starnberg lies the Maisinger Canyon, eroded by the last ice age.
Discover destination
Pack your ice skates – for those of you who have still got plenty of energy to burn after a romantic winter hike along the frozen stream, you can pirouette elegantly or play a game of ice hockey on the frozen Lake Maising.
Are you ready for Bavaria's spookiest places? We have put together a list of scary and beautiful destinations in the Free State that are sure to give... Walking through the old town of Rothenburg ob der Tauber is like travelling back in time. Even... Faster, quieter and absolutely no exhaust fumes: Once you've had a taste of driving an electric... Also for people with a fear of flying: A balloon flight above Bavaria is perfect for anyone who... The largest stalactite in Germany. You certainly won't want for things to see in the Maximilian... Dive in! There are more than enough options. Even a simple stroll can be magical: dive into the world of fairy tales on the Schönwerth fairy... A tantalising prospect for cross-country skiers: 12 fantastic trails with a combined length of 180... Cycling tour around and through the beautiful town of Kempten in the Allgäu, past the steep slopes... Bavarian beer culture and traditional values are nurtured at the Ayinger Brewery.
Share article

Email Copy link
Your bookmarks