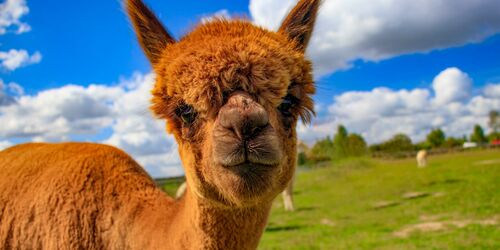 Take things easy. Take great selfies. Take an alpaca on a hike.
There's a new trend in outdoor activities: hiking with animals. Leading the list of popular companions are llamas and alpacas. These fluffy creatures are like little camels, and their gentle temperaments have made them a hit with people of all ages. Fans sum up the animals' character well: "they really help you to de-stress". Near Garmisch-Partenkirchen, Alpspitz Alpakas und Lamas is home to seven winsome alpacas who can join you on hikes lasting 1 to 3 hours. Their stable is just 15 minutes' walk from Untergrainau station. Outside the station, go left along Loisachstrasse, then right at An der Wies. At the end, go right at Schmölzstrasse. Go right again at Zigeunerweg, and you'll reach your destination at no. 19 a few moments later. This is where you and your cute companion will start out from. At the end of your hike, you'll be just as chill as your animal friend. Don't forget to take selfies of you both as evidence!
As soothing as swimming with dolphins
If you want a break from everyday life, hanging out with an alpaca is just the thing. People say that they have a relaxing effect like dolphins. Going for a walk with these little cousins of the camel in the great outdoors is a perfect way to learn some lessons in zen.
The perfect end to your day: a glass of wine and a mountain panorama
Before you catch your train home, make sure you have the time to pay a visit to the restaurant Schmölzer Wirt, which is on your way to the station. It is a fusion of the Alpine outdoors and Bavarian cosiness. On sunny days, visitors can take a seat on the large outdoor terrace and enjoy the astonishing view, which includes Germany's highest mountain, Zugsitze. Whether you're a fan of traditional fare or cutting-edge cuisine, the menu has something to tickle your tastebuds. Wine connoisseurs in particular will appreciate the large selection of excellent vintages on offer. Treat yourself to a glass before you return to the station, which is about 10 minutes away on foot. Griesener Strasse runs right outside the restaurant. Go left, and then go left again just a few metres away when you come to Schmölzstrasse. Follow it and go right at An der Wies. It ends at Loisachstrasse – go left here and you'll see the station to your right a moment later. Enjoy the train trip home, full and satisfied.
Management coaching of a different kind: take a donkey for a stroll
Who says donkeys are stubborn? Go for a hike with one and you'll see a whole new side to them. There are even seminars where managers "learn" from these sensitive animals. You can take your first lesson from your four-legged coach at Schusterhof in Kempfenhausen, with professional supervision from Markus Schuster and his team. Your route there starts at Starnberg Nord station. Take bus no. 975 (runs Monday-Friday) or 961 (Saturday and Sunday) as far as Berger Strasse in the suburb of Percha. Your Bayern Ticket is valid on these bus services. The donkey stables are a 10-minute walk from the bus stop. Walk south along Berger Strasse and go left at Am Mühlberg. Its name changes to Mitterfeldweg after a while, but keep going until you reach no. 21. Different trekking options are available: the half-day walk lasts for 3 hours, while the full-day hike needs 5 hours to complete. Donkeys operate on instinct. They have a talent for picking up on your feelings and mirroring your own state of mind, so you'd better be in a sunny mood when turn up to start your hike!
Learning mindfulness from a donkey
Hiking with a donkey is a real lesson in mindfulness and self-reflection. The minute it senses you are not paying it full attention, your donkey will quickly take over the reins of your meeting. These animals only accept someone who knows how to lead them properly. They respond very badly to displays of dominance and aggression: these are a good reason for them to turn stubborn. When you win the trust of these empathetic and endearing beasts and adjust to their particular rhythm, you'll have a new friend. The day in Kempfenhausen starts with a basic class in donkey psychology before you start your hike. You'll learn about the animal's origins and its characteristic behavioural traits, and then you'll be introduced to the herd so you can find the animal that suits you best. Only then will you be able to start your hike with your new teacher. Keep one thing in mind: being authentic is the way to win a donkey over.

At the end of your fascinating day, your next port of call should be Zum Brückenwirt. This restaurant isn't far away – just walk back up Mitterfeldweg and Am Mühlberg, turn right at Berger Strasse and the building is just on your right. Whatever you want, you'll find it here: homemade soups, hearty meat dishes and lip-smacking fish specialties. From the stop on Berger Strasse, bus no. 975 (runs Monday-Friday) or 961 (Saturday and Sunday) will take you back to Starnberg Nord station, where you can catch your train home.
Arrival
Alpsitz-Alpaka-Stall
Zigeunerweg 19
82491
Next station
Untergrainau
Our tip: Please make sure to check your train connection and the expected capacity before you start your journey.
More destinations
Just a few minutes from Reutte train station, off you go on a wet adventure you won't soon forget. Gentle hills, wide views into the countryside, even as far as the Alps, fields, ponds, lakes and... Admittedly - this cycle tour in the district of Lichtenfels is quite a short route at around 23... If you want to experience that canyon feeling, you don't have to travel far. Near Garmisch, less... From the savannah enclosure to the tropical house to the domestic petting zoo - Augsburg Zoo offers... An exciting place for all ages: The Bavaria Filmstadt film studios in Grünwald, right next to... From fields to mountains: the spectacular Höllental gorge leads through dramatic scenery to a... Calling all bird lovers and friends of the forest: Take a walk through the nature reserve... There is a long tradition of mining in the Allgäu. And for this reason an entire museum village... Perfect for connoisseurs! This bike tour takes you through the meadows and lakes, past the...
Share article

Email Copy link