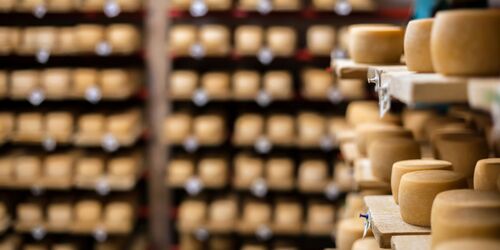 Bavarians are bon viveurs. Cheese from the milk of happy Alpine cows and beer brewed according to all the rules form part of their cultural heritage. Take a trip to the "Sennerei Lehern" showroom and watch cheese-making experts at work as they create different specialities from the Allgäu region. Then continue on to restaurant and brewery Sudhaus Maria-Hilf in Speiden. The path is well-signposted and has lots of information boards. Before you return home, we highly recommend sampling one of their tasty snacks and refreshing beers. The Sennerei is a 30-minute walk from Weizern-Hopferau station, or you can catch the bus.
Arrival
Sennerei Lehern
Lehern 158
87659 Hopferau
Next station
Weizern-Hopferau
Our tip: Please make sure to check your train connection and the expected capacity before you start your journey.
More destinations
There's nowhere quite like Ingolstadt, where culture and history stretching back over 1,000 years... Upper Franconia has introduced an experience that unites beer and education in perfect harmony. At... After a around two-and-a-half hours of hiking from the station you will reach the rustic Tutzinger... A view far and wide over the Franconian wine country – enjoy it at the "terroir f" lookout... When it's sunny, people from all nationalities flock to the beer garden at the Chinesischer Turm... Beer tour from Coburg to Rödental: Quench your thirst in the myriad of beer gardens and beer... For traditionalists: master butcher and chef Norbert Wittmann founded the Weißwurst-Akademie... Forests and fields, great beer and irresistible food: Franconian Switzerland is home to the... This hike will take you around multiple Franconian breweries, where you will also get to know the... The "Kugler Alm" beer garden has always been a popular trip destination for ramblers and cyclists.
Share article

Email Copy link
Your bookmarks