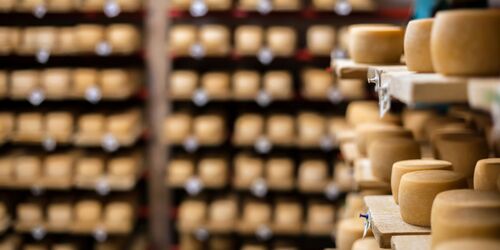 Bavarians are bon viveurs. Cheese from the milk of happy Alpine cows and beer brewed according to all the rules form part of their cultural heritage. Take a trip to the "Sennerei Lehern" showroom and watch cheese-making experts at work as they create different specialities from the Allgäu region. Then continue on to restaurant and brewery Sudhaus Maria-Hilf in Speiden. The path is well-signposted and has lots of information boards. Before you return home, we highly recommend sampling one of their tasty snacks and refreshing beers. The Sennerei is a 30-minute walk from Weizern-Hopferau station, or you can catch the bus.
Arrival
Sennerei Lehern
Lehern 158
87659 Hopferau
Next station
Weizern-Hopferau
Our tip: Please make sure to check your train connection and the expected capacity before you start your journey.
More destinations
"Nothelfer" (emergency helper) beer is brewed under the gaze of the "Basilica of the Fourteen Holy... Bamberg smoked beer ("Rauchbier") is made using smoked malt, which gives it its characteristic... Is the diversity of Aschaffenburg's excursion destinations due to its Mediterranean flair? Here,... Insider tip for architecture and art lovers: The Rosenberg Fortress in Kronach takes you back to... A view far and wide over the Franconian wine country – enjoy it at the "terroir f" lookout... Forests and fields, great beer and irresistible food: Franconian Switzerland is home to the... A visit to Bavaria's third-largest city is like travelling back in time to the Renaissance, largely... Every Sunday, visitors are enticed to Brombachsee lake for a three-hour brunch boat ride on the MS... Go on a voyage of discovery through the historic town of Amberg - the former capital of the Upper... It doesn't get fresher than this. At the Holzen Abbey in Allmannshofen, breakfast is turned into...
Share article

Email Copy link