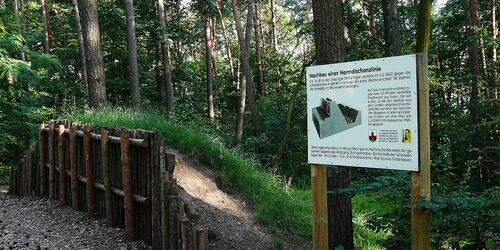 Although the flavours seem debatable at first, they actually combine fantastically well. This is a place where everything unites: the traditional and the modern, East and West, and the sweet and the spicy. Very appropriate for the spirit of our time. The restaurant "Alte Veste" adds a modern sense of the Far East in the middle of a lush green landscape, high above the roofs of Zirndorf. It's a true feast for your eyes and your taste buds, so much in fact that you'll be postponing your trip to the other "Alte Veste". The original Alte Veste was a town quarter, situated at the highest point of the Rosenberg mountain to the north of Zirndorf. What remains is a watch tower, surrounded by ruins. Finally, you can stretch your legs on the five-kilometre hike back to Fürth main station.
For further information please click here.
Arrival
Alte Veste
Alte Veste 2
90513 Zirndorf
Our tip: Please make sure to check your train connection and the expected capacity before you start your journey.
More destinations
Oberstdorf rings a bell! Of course, the market town in Oberallgäu is world-famous thanks to winter... The "Kugler Alm" beer garden has always been a popular trip destination for ramblers and cyclists. Therme Erding thermal bath's opening glass roofs can be seen from afar. The 18.5-hectare facility... Also for people with a fear of flying: A balloon flight above Bavaria is perfect for anyone who... A tour to the Mainschleife by bike and boat. Enjoy the breathtaking scenery, visit charming museums... For traditionalists: master butcher and chef Norbert Wittmann founded the Weißwurst-Akademie... Combine culture and nature on a hike in the Spessart. Along the European Cultural Trail you can... The Gulf of Naples is at home on the banks of the river Main: Aschaffenburg's Pompeiianum is a... If you want to experience that canyon feeling, you don't have to travel far. Near Garmisch, less... "Peak happiness" for you and yours. Use the Alpspitzbahn cable car to ascend to 1,575 m, take in...
Share article

Email Copy link