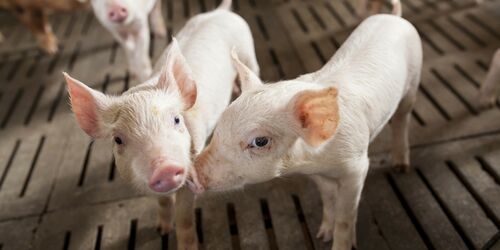 The Ferienhaus Meyer holiday home by Altmühlsee lake goes by the motto: "Happy children – rested parents." The goats (Mohrle and Esa), the ponies (May and Moritz), the pigs (Fritz and Frieda) and cow (Paula) all look forward your visit to the petting zoo. At the very least the carriage and tractor rides should bring a smile to the little ones' faces. Meanwhile you can relax at the on-site wellness centre. Guests can be picked up from Gunzenhausen station on request.
Arrival
Ferienhaus Meyer holiday home (Altmühlsee lake)
Laubenzedel 43
91710 Gunzenhausen
Next station
Gunzenhausen
Our tip: Please make sure to check your train connection and the expected capacity before you start your journey.
More destinations
A hike in Iffeldorf around the Caribbean-blue Easter Lakes with a dreamlike mountain panorama - for... If you're getting off at Großhelfendorf it will take you less than a quarter of an hour to get... The Karwendelbahn cablecar at Mittenwald only needs a few minutes to whisk visitors from an... It is said that goblins live in the middle of the forest not far from the southern edge of the town... A view far and wide over the Franconian wine country – enjoy it at the "terroir f" lookout... Just a short walk away from the station lies the "Jahnufer" riverbank (in Neu-Ulm), and from here... A leaning tower, the supposed tomb of Dracula and a bulging picnic basket await you on this magical... Altherrenweg literally means "old men's path", but with forest streams and wooden sculptures, the... Enjoy Franconian nature and lifestyle. The Altmühltal Panorama Trail spoils you on your hike with... The perfect mountain for beginners. You don't need to be a seasoned mountaineer on a trip to the...
Share article

Email Copy link
Your bookmarks