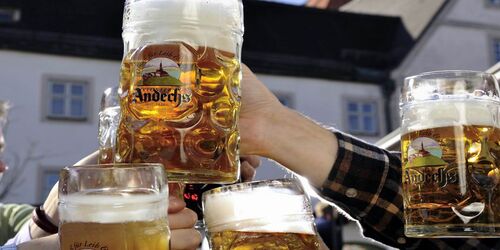 Andechs Monastery with its bell tower that can be seen from far and wide, is situated by the eastern banks of the Ammersee lake. Beer has been brewed here for more than half a millennium. You can enjoy said beer in the beer garden of the "Andechser Bräustüberl" brewery, for example. You can accompany it with either a snack brought from home or the hearty delicacies from the brewery itself. The short walk to the monastery from Herrsching station is worth taking.
Arrival
Andechs Monastery
Bergstraße 2
82346 Andechs
Our tip: Please make sure to check your train connection and the expected capacity before you start your journey.
More destinations
Get off the train - and into the wellness paradise to relax, improve your health or simply have a... When the men equipped with a basket and brass boiler lift the cover, the aroma of hot sausages... You can see about 500 birds from all over the world in aviaries, pavilions, pond areas and outdoor... About ten minutes from Würzburg main station is where you can get possibly the largest pizzas in... The station in this market town links the past with the present The Alter Simpl restaurant in Erlangen is right near the station and has a menu that boasts... Sportland Erlangen leisure centre is a five-minute walk away from the station. How about a quick... You won't have to search for long if you arrive in Bayreuth hungry – sushi restaurant Lamondi... "From field to saucepan" – vegan chef Sebastian Copien lives by his motto and delights in sharing... Are all farmers in the east of Bavaria gloomy? The name of this sausage speciality sounds...
Share article

Email Copy link
Your bookmarks