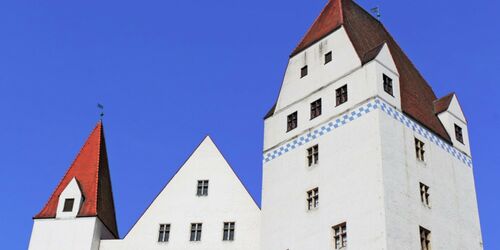 The castle, sometimes called "Die Neue Veste", already merits a visit just for its sheer size and majestic rooms. It is also home to the oldest military history museum in Germany – the Bavarian Army Museum. As early as 1418, Duke Louis VII laid the cornerstone for his castle. It's worth having a look at the website, as the castle often has special exhibitions.
News, prices and opening hours are available here.
Arrival
New Castle
Paradeplatz 4
85049 Ingolstadt
Next station
Ingolstadt Hbf (main station)
Our tip: Please make sure to check your train connection and the expected capacity before you start your journey.
More destinations
Go on a yoga retreat with "bayurvedic" cuisine at Hotel Staudacherhof in Garmisch-Partenkirchen. A medieval fort in an idyllic setting, a late Gothic chapel with a love of detail, and the world's... The 4-star wellness hotel Antoniushof in Ruhstorf promises big things. The new word on the block is... Bavarian beer culture and traditional values are nurtured at the Ayinger Brewery. The Roman museum was built on the foundations of Kastell Boiotro castle. Films and light... Located right beside the river Main, the old grain storage facility combines an industrial... With its exciting exhibits, interactive features and workshops, we bet the children's museum in... For thirsty folk: would you like to know the exact reason why your favourite beer is so tasty? If... In the town on the southern edge of the Thuringian Forest, children's eyes sparkle: there is much... For heavy hitters: dive into the world of blacksmithing at the Mühlgassn-Schmiede forge in Kissing...
Share article

Email Copy link
Your bookmarks