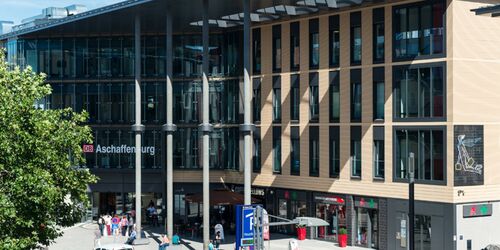 Renovated in 2011, the overarching design of the station building is sleek and simple. The huge glass windows, high ceilings and spacious hall are the features that afford this station its unique, light and airy style. And it wasn't long before the efforts paid off. In 2012, Aschaffenburg main station was honoured with the award for "Station of the Year".
For further information please click here.
Arrival
Aschaffenburg main station
Ludwigstraße 2
63739 Aschaffenburg
Next station
Aschaffenburg Hbf (main station)
Our tip: Please make sure to check your train connection and the expected capacity before you start your journey.
More destinations
One of the most attractive major railway stations in Germany. Fancy relaxing in nature or enjoying a cappuccino with a fifty's flair? For the former, we... Swabia is not only famous for its Spätzle (traditional Swabian dish) – the Rote Wurst (red... The station in this market town links the past with the present You won't have to search for long if you arrive in Bayreuth hungry – sushi restaurant Lamondi... About ten minutes from Würzburg main station is where you can get possibly the largest pizzas in... A station as attractive as its environment. Right next to the railway station, the Alte Simpl in Erlangen has everything Franconian cuisine has... Do you want a taste of the Caribbean on your day at the thermal bath? The palms and azure water at... Sportland Erlangen leisure centre is a five-minute walk away from the station. How about a quick...
Share article

Email Copy link