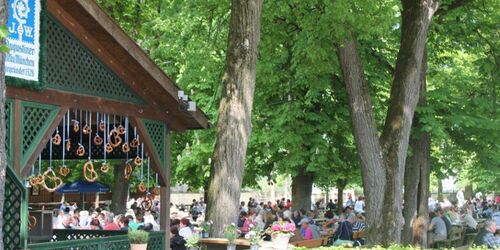 Although the Augustiner Schützengarten beer garden in Munich, which has seating for 3,000 people, is gigantic, its atmosphere remains friendly and cosy. When getting off at the "München-Mittersendling" S-Bahn station, you will be able to see the large white building just a few hundred metres away: the heart of the beer garden. For the little ones, there is a playground and a field to run around in. Of course, you're welcome to bring your own snack. If you visit on a Sunday and the weather is nice, you can listen to the Unterbrunner Blaskapelle brass band while you eat.
For further information please click here.
Arrival
Augustiner Schützengarten beer garden in Munich
Zielstattstraße 6
81379 Munich
Next station
München-Mittersendling
Our tip: Please make sure to check your train connection and the expected capacity before you start your journey.
More destinations
The "Barfüßer Hausbrauerei" brewery and beer garden are situated right in the heart of Memmingen.... Here is the heart of Munich. Hearty Bavarian cuisine, cosy surroundings and generously filled beer... Tall chestnut trees, drinkable beer and fine delicacies: the Hofbräukeller on Wiener Platz has... Examples of nice and traditional beer gardens include the one from the Paulaner brewery on... Weihenstephan is the oldest brewery in the world still running. On a tour you can dive into the... Off on an adventure for the whole family by train! This Nuremberg family hike combines the Toy... Possibly the prettiest park in the city Let yourself be inspired by the flair of the old town and its sights on a walk through Kitzingen:... On the way by train to charming half-timbered buildings and impressive wineries. A hike through... Bertolt Brecht allegedly said that "the nicest thing about Augsburg is the train to Munich." Of...
Share article

Email Copy link
Your bookmarks