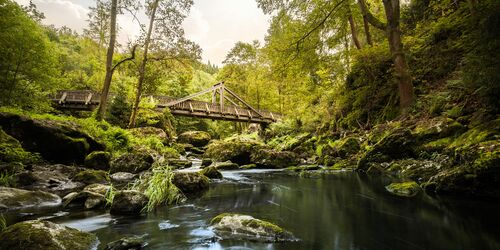 One of the possible starting points along this 18.7-kilometre route is the spa park in Bad Steben, which is around a ten-minute walk from the station. The route takes you across wide-open fields to Lichtenberg, past the castle and the mining museum at the Friedrich-Wilhelm-Stollen show mine and finally leads to the wild and romantic Höllental valley. For most of the way you can follow the signs that read "Humboldtweg". If the entire route seems rather long, you can stop at either Höllental or Marxgrün and take the train back to Bad Steben. Afterwards, you can relax in the thermal baths in this Upper Franconian market town. It is considered to be one of the ten most attractive thermal baths in Germany, and has been awarded the "TouriSpo Award" for its facilities.
Arrival
Bad Steben
Poststraße 2A
95138 Bad Steben
Our tip: Please make sure to check your train connection and the expected capacity before you start your journey.
More destinations
If a day of tobogganing without the tedious uphill climb sounds appealing, then you should catch... Fun on the slope descents in the Alps: this is possible at the ski resort on the Ochsenkopf in the... Climb aboard in Mittenwald, and ten minutes later, you'll emerge into another world – 1,311... The small Bavarian town on the Red Main has made a name for itself not only as a film set for... Anyone can hack their way along frozen waterfalls and abseil down icicles when they have the right... The 10-kilometre loipe begins right behind Klais station and is dubbed the "sporty" route for good... Art history, stained glass and a gorgeous garden: there's so much to see in Augsburg's cathedral... The Kneipp Museum in Bad Wörishofen takes visitors on a journey of discovery into the life and... The Germanisches Nationalmuseum delivers a vivid presentation of valuable works of art and cultural... 7,000 m2 of relaxation: the KissSalis spa was designed to make you feel better than you every...
Share article

Email Copy link
Your bookmarks