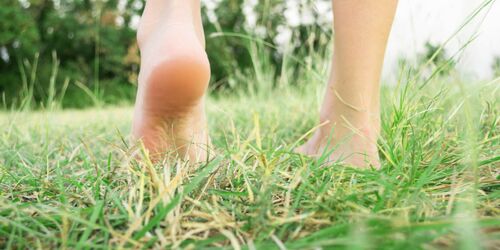 1.6 kilometres of time well spent. Cast aside your shoes and socks and treat your senses to a walk across flagstones and spruce cones in the panoramic barefoot park "Panorama-Barfußpark" at the St. Anton cabin. You'll climb and scramble across the mountain, past different sensation and discovery points. With the station as your starting point, the park can be reached via different hiking trails or with the cable car. If you're looking to stay the night, you'll receive a warm welcome at the guest house "Daheim" (meaning "at home"). Sitting at an altitude of 900 metres, it has splendid views of the Karwendel mountains. Another experience that is just as delightful for feet of all shapes and sizes is the "Mittenwald" barefoot hiking trail. It features around 20 experience stations made from bark mulch, wood chips and logs. At the end you'll be rewarded with an invigorating foot bath of fresh spring water.
Arrival
Panorama-Barfußpark in Mittenwald

82481 Mittenwald
Our tip: Please make sure to check your train connection and the expected capacity before you start your journey.
More destinations
On the way by train to charming half-timbered buildings and impressive wineries. A hike through... Off to the Franconian Lake District by train! On the hike you combine nature enjoyment, bird... Would you like to explore the pilgrimage route in Bavaria? We recommend short pilgrimage routes... Spectacular and blissfully convenient: The "Altmühltalweg" that runs between Pappenheim and... Petting zoo for the kids, wellness for the parents, and the motto: "Happy children – rested... "Peak happiness" for you and yours. Use the Alpspitzbahn cable car to ascend to 1,575 m, take in... The 6.8-kilometre "Donausteig" route starts at St. Stephens Cathedral in Passau, and is the perfect... Just follow the red signposts. That's all you have to do if you're venturing off along the... Altherrenweg literally means "old men's path", but with forest streams and wooden sculptures, the... It is said that goblins live in the middle of the forest not far from the southern edge of the town...
Share article

Email Copy link
Your bookmarks