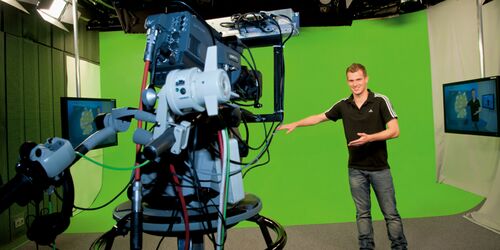 The Bavaria Filmstadt film studios in Grünwald, right next to Munich, offers guided tours, activities and a 4D motion simulation cinema. You won't tire of this place easily! It all began in August 1981 with the first exhibition piece: the submarine from the film "Das Boot". Over time, this was followed by mystical creatures from "The Neverending Story" and exhibits and sets from films and series, such as "Der Baader Meinhof Komplex" and "Sturm der Liebe". The best thing is that you can be the film star yourself and show off your talent in front of the camera. You record a short scene in front of a green screen in the Visual Effects studio, which is later edited to show a spectacular ride on the roof of a train and an encounter with a dragon. And in the Film Stunts studio you can have a go at how they used to film stunts.
For further information please click here.
Arrival
Bavaria Filmstadt
Bavariafilmplatz 7
82031 Grünwald
Next station
München Hbf (Munich main station)
Our tip: Please make sure to check your train connection and the expected capacity before you start your journey.
More destinations
Due to its location right by the limes, the little Middle Franconian town of Weißenburg became a... Let yourself be enchanted by the historic flair of the old town on a walk through Rothenburg: the... The Burghotel in Rothenburg ob der Tauber is nestled right up against the city walls. Take a stroll... The island town of Lindau owes its reputation as Bavaria's riviera to its blend of Art Nouveau... The edge of the Alps was solidly under Roman control. The Villa Rustica was discovered in the... This is a place where everything unites: the traditional and the modern, East and West, and the... Sumptuous flowers: tiny Bernried was chosen as one of Germany's most beautiful villages in 2009. The perfect bike tour for nature lovers and connoisseurs: From Würzburg, the route leads to the... A hike with cultural enjoyment - a sculpture park and colourful half-timbered houses await you on... Beer tour from Coburg to Rödental: Quench your thirst in the myriad of beer gardens and beer...
Share article

Email Copy link