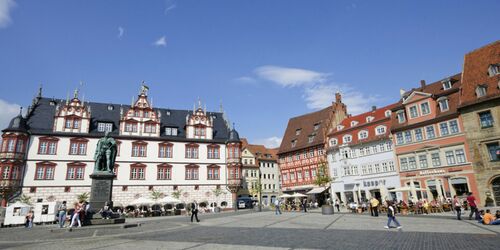 Why not combine beer with a bit of culture? This tour in western Upper Franconia first takes you through the picturesque little town of Coburg, with its Castle Square, Rose Garden and castle "Veste Coburg". Then you continue on to a woodland trail through Oeslau and on to Rödental. Along the way, you can quench your thirst in the myriad of beer gardens and beer cellars.
Arrival
Coburg station
Lossaustraße 6A
96450 Coburg
Our tip: Please make sure to check your train connection and the expected capacity before you start your journey.
More destinations
Go on a voyage of discovery through the historic town of Amberg - the former capital of the Upper... "What you wish to kindle in others must burn within yourself." This is the motto of the meditation... The Tegelberg mountain is situated within the former kingdom of Ludwig II, Bavaria's fairytale... Although the Augustiner Schützengarten beer garden in Munich, which has seating for 3,000 people,... On this bike tour you will get high up. You cycle through fields, meadows, past small farms, along... A visit to Bavaria's third-largest city is like travelling back in time to the Renaissance, largely... Would you like to go on an impressive hike through the vineyards of Franconia? Then set off for... There is a corner of central Augsburg that's like a little town of its own, and with a history to... Bamberg smoked beer ("Rauchbier") is made using smoked malt, which gives it its characteristic... The sweeping view across the Altmühl valley from the castle is certain to have saved the lives of...
Share article

Email Copy link
Your bookmarks