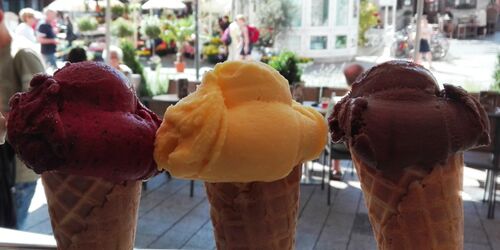 Ice cream Café Benito in Würzburg has been around for an unbelievable 84 years, first on Hofstraße and later on Domstraße. Back then, the great-grandfather of the Vettori family fell in love with the city and its inhabitants, who he believed "understood how to enjoy life". The ice cream café is currently being run by the fourth generation of the family. It's a situation where experience meets innovation, and which results in not just classics such as chocolate and vanilla, but also delicious vegan varieties and sorbets. Another bonus is that you can walk to the old Main bridge within four minutes.
For further information please click here.
Arrival
"Benito" ice cream café
Schustergasse 2
97070 Würzburg
Next station
Würzburg Hbf (main station)
Our tip: Please make sure to check your train connection and the expected capacity before you start your journey.
More destinations
True&12 in Munich always serve twelve different flavours of ice-cream. Sometimes, if you're... Ice cream café "Das Eis im Glück", located in the Johannis quarter of Nuremberg, was once a shop... Ice cream café "Dall'Asta" in Ulm is the perfect place for a refreshing break. After all, it's... It's a rare occasion when you won't see queues outside of Stenz ice cream parlour in Regensburg old... The Bayreuth ice cream paradise "Opera" is just an eight-minute walk from the station. The café... If you like it romantic, this is the place for you. On this walk in the city of towers, you can... Discover the beauty of the Franconian wine country on a hike that offers you diverse nature of the... This extensive e-bike tour through nature, starting at the Altmühlsee, offers you many a cultural... If you're looking for adventure, then canyoning in the Starzlach Gorge is just the thing for you!... Fancy a nature trail that connects two metropolises? Then this is the tour for you! Big city...
Share article

Email Copy link
Your bookmarks